Berkeley Medical Center names Daisy Award winner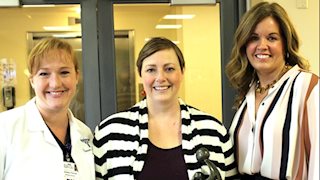 MARTINSBURG, W.Va. – WVU Medicine Berkeley Medical Center's Nurse Work Life Council named Valeri Grove, a registered nurse on the orthopaedic unit, as the recipient of the DAISY Award For Extraordinary Nurses for the first quarter 2016.
The award was presented to Grove during a recent ceremony at the Medical Center during National Nurses Week 2016. She received a certificate along with a sculpture called "A Healer's Touch," hand-carved by artists of the Shona Tribe in Africa.
Because of the overwhelming number of outstanding nominees, two other registered nurses were given honorable mentions during the special ceremony -- Gregory Jarnako, telemetry unit, and Julia Gray, medical/surgical unit.
The DAISY award was established nationally to recognize the super-human efforts nurses perform every day. Nurses at University Healthcare's Berkeley Medical Center and Jefferson Medical Center are being honored throughout the year with the DAISY Award. The awards are sponsored by the University Healthcare Foundation.
The not-for-profit DAISY Foundation is based in Glen Ellen, California, and was established by family members in memory of J. Patrick Barnes, who died at the age of 33 in late 1999 from complications of Idiopathic Thrombocytopenic Purpura (ITP), an auto-immune disease. The care Patrick and his family received from nurses while he was ill inspired this unique means of thanking nurses for making a profound difference in the lives of their patients and patient families.
Photo caption: WVU Medicine Berkeley Medical Center's first quarter 2016 recipient of the DAISY Award For Extraordinary Nurses Valeri Grove, RN (center), is shown receiving her award from Vanessa Thomas (left), nursing director of orthopaedics, and Samantha Richards (right), vice president/chief nursing officer at WVU Medicine University Healthcare.
For more information: Teresa E. McCabe, University Healthcare Vice President of Marketing and Development, 304-264-1223