Back to

News
Bob Huggins Fish Fry Set for January in Morgantown
Fundraiser to benefit two West Virginia charities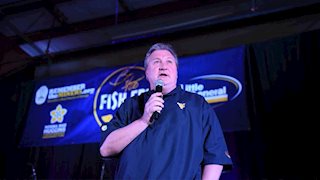 ************* Update -- Event is SOLD OUT *************
The Bob Huggins Fish Fry is officially sold out for the first time ever!! Still want to support Coach Huggins and the Norma Mae Huggins Cancer Research Endowment Fund? Our auction is live and is open to anyone and everyone. It will close the night of the event (Jan. 26). Please consider making a gift and being a part of this year's event: qtego.net/qlink/bobhugginsfishfry2018
**********************************************************************************************
The sixth annual Bob Huggins Fish Fry, presented by Little General Stores, is set to take place Friday, January 26, 2018 at the Mylan Park Community Center in Morgantown. This year's event will feature a special guest appearance by University of Kentucky Head Men's Basketball Coach John Calipari. The Wildcats will take on West Virginia the following day at the Coliseum.
"This is a great opportunity to come out and enjoy a casual evening with friends, while supporting two great causes," said WVU Head Men's Basketball Coach Bob Huggins. "We've got a big game the next day, so we invite you to join us at the fish fry then come to the Coliseum Saturday for some great basketball."
This year's event will begin at 5:30 p.m. Proceeds from ticket sales and auction items will once again benefit both the Norma Mae Huggins Cancer Research Endowment Fund and the Remember the Miners Scholarship Fund. Table and sponsorship information is available at wvucancer.org/fishfry or by contacting Daniel Hare at the information below.
The Norma Mae Huggins Cancer Research Endowment Fund at the WVU Cancer Institute was created by Coach Huggins in honor of his late mother, who lost her battle with colon cancer in 2003. The endowment supports cancer research. Since its inception, more than $1.35 million has been raised to fund cancer research at the WVU Cancer Institute. For more information, visit wvucancer.org.
Remember the Miners raises public awareness to support and honor the legacy of all miners and the mining industry, while remembering those miners who have fallen. Since the organization was founded six years ago, Remember the Miners has given more than $250,000 to miners and their families since its inception. For more information on this program, visit remembertheminers.org.
For more event information, follow @BobHugginsFishFry on Facebook and Instagram or @HugginsFishFry on Twitter or log on to: bobhugginsfishfry.com.
SPONSORSHIP CONTACT: Daniel Hare
WVU Cancer Institute, 1 Medical Center Drive, PO Box 9300, Morgantown, WV 26506
304.293.4597
Daniel.hare@hsc.wvu.edu