Bonnie's Bus to offer mammograms in Clay, Summersville, Richwood, Dawes, and Whitesville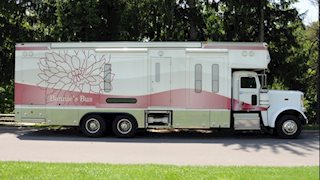 MORGANTOWN, W.Va. – Bonnie's Bus, a digital mammography center on wheels, will visit Clay, Nicholas, Kanawha, and Boone counties offering digital mammograms and breast care education to women.
A service of WVU Medicine and the WVU Cancer Institute, Bonnie's Bus will be at:
Rite Aid parking lot across from the Clay County Senior Center in Clay from 8 a.m. to 4 p.m. on April 4. For an appointment, call 304-587-2468.
Summersville Elementary School from 8 a.m. to 4 p.m. on April 5. For an appointment, call 304-872-1663 or 304-226-5725.
Cherry River Elementary School in Richwood from 8 a.m. to 4 p.m. on April 10. For an appointment, call 304-846-2608 or 304-226-5725.
Cabin Creek Health Center in Dawes from 9 a.m. to 5 p.m. on April 27. For an appointment, call 304-595-5006.
Coal Heritage River Walk Park in Whitesville from 9 a.m. to 5 p.m. on April 28. For an appointment, call 304-854-1321.
The mammograms are billed to private insurance, Medicaid, or Medicare, if available. Mammograms for women who do not have insurance will be covered by the West Virginia Breast and Cervical Cancer Screening Program (WVBCCSP) or through special grant funds from the West Virginia affiliate of Susan G. Komen for the Cure. No woman over 40 is turned away due to lack of funding. A physician's order is needed for a mammogram.
Since the startup of the mobile mammography program, Bonnie's Bus has provided more than 13,000 mammograms for women throughout West Virginia and led to the detection of 61 cases of breast cancer. Many of those screened are uninsured or underinsured and qualified for screening through the WVBCCSP.
Bonnie's Bus works in collaboration with a statewide partnership of clinicians, public health professionals, women's groups, and other community leaders working to help reduce the number of deaths from breast cancer in West Virginia.
Made possible by a generous gift from West Virginia natives Jo and Ben Statler to the Cancer Institute, Bonnie's Bus is operated in partnership with WVU Hospitals. The bus is named after Jo Statler's late mother, Bonnie Wells Wilson.
For information on Bonnie's Bus, see www.wvucancer.org/bonnie.

Attention reporters and editors: If you are interested in covering Bonnie's Bus when it visits your area, please call the WVU Medicine Marketing and Communications Office in Morgantown at 304-293-7087 in advance. Out of respect for patient privacy, please do not show up at the location without scheduling an appropriate time for interviews and/or photos.
For more information: Amy Johns, Director of Public Affairs, 304-293-7087