Bonnie's Bus visiting Martinsburg in March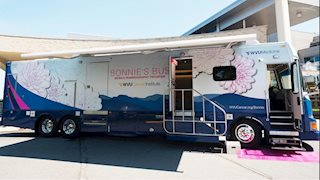 MARTINSBURG, W.VA. – Bonnie's Bus, a digital mammography center on wheels, will visit the Eastern Panhandle in March, offering three-dimensional (3D) digital mammograms and breast care education to area women.
H&R Block and the WVU Cancer Institute are sponsoring the Berkeley County visit. Bonnie's Bus will be parked at H&R Block at 1323 Edwin Miller Boulevard in Martinsburg from 9 a.m. to 5 p.m. on March 20.
A service of the WVU Cancer Institute in Morgantown, the new 45-foot Bonnie's Bus is a state-of-the-art digital mammography unit that brings the most advanced digital mammography to communities in West Virginia.
The mammograms are billed to private insurance, Medicaid, or Medicare, if available. Women age 40 or over who do not have insurance will be covered by the West Virginia Breast and Cervical Cancer Screening Program (WVBCCSP) or through special grant funds.
A physician's order is required in order to schedule a mammogram and space is limited. For more information or to schedule a Bonnie's Bus appointment, call 304-264-1287, ext. 32027.
Bonnie's Bus works in collaboration with a statewide partnership of clinicians, public health professionals, women's groups, and other community leaders working to help reduce the number of deaths in West Virginia from breast cancer. The program was funded through a generous gift from Jo and Ben Statler in memory of Jo's mother, Bonnie Wells Wilson, a breast cancer victim.
For more information on Bonnie's Bus, visit www.wvucancer.org/bonnie.
For more information: Teresa McCabe, Vice President of Marketing and Development, 304-264-1223