Brain Awareness Week at WVU Early Learning Center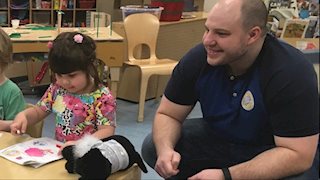 Brain Awareness Week was a hit in the WVU Early Learning Center, where kids learned about different professions like a police officer and a firefighter. Friday, March 21 was a neuroscientist day supported by the local chapter of the Society for Neuroscience.
Graduate students from WVU Blanchette Rockefeller Neurosciences Institute visited about 60 preschoolers with a box full of brain-related activities like coloring books, brain stickers and brain models.
The interactions started with a Q&A:
"Do you know what scientists do?" they asked. Kids replied, "I love my brother," or "they think," and "they do experiments," Sophia said.
"Do you know where the brain is?" Some kids pointed to their heads. One kid pointed to his stomach saying, "My mommy has a baby in her tummy." Many nodded sympathetically. This point was eagerly supported by a neuroscientist, "Correct. Babies also have brains."
The kids proceeded to the sensorimotor activities working through their coloring tasks. The coloring page of neural structures evoked a number of questions. Kids immediately recognized and asked about the strange different objects including a neuron, a spinal cord and a synapse. The first question was about the neuron.
"The neuron is a tiny part from which the brains are made, like a collection of LEGO blocks," as the neuroscientists expained that the brain is connected to the spinal cord, which is also connected to the muscles, and muscles make your arms and legs move. One child, Michael, added, "And they move your head, too." All of the children agreed by shaking their heads.
In the practicum, kids practiced creating single neurons and neural networks with pipe-cleaners. They finished their artworks of neural structures and saved them for their parents. Neuroscience is less of a mystery now.
by Sergiy Yakovenko, Ph.D., Exercise Physiology - Neuroscience