Busy Bee Award winner announced at Berkeley Medical Center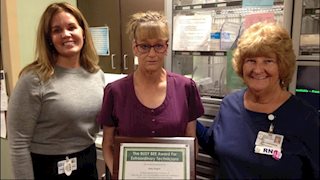 MARTINSBURG, W.Va. – Kelly Rogers, oncology department, was recently named WVU Medicine Berkeley Medical Center's first Busy Bee Award recipient.
The Busy Bee Award was established by Nursing's Work Life Council to recognize outstanding nursing technicians at Berkeley Medical Center. Technicians may be nominated by patients, visitors, family, nurses, physicians, employees, or volunteers for providing excellent patient care.
Rogers was selected from a pool of 27 nominees. Crissy Shipley and Doug Allen from telemetry and Justin Gaynor from the operating room were recognized as honorable mention recipients.
Nomination forms for the Busy Bee Award are available at locations throughout the Berkeley Medical Center campus. Anyone who witnesses a nursing technician displaying outstanding service is encouraged to complete and submit a nomination form.
Photo caption: WVU Medicine Berkeley Medical Center's Busy Bee Award winner is pictured receiving her award during a recent ceremony. Left to right: Samantha Richards, vice president/chief nursing officer; Kelly Rogers, Busy Bee Award winner; and Jeanie Henderson, nurse director of inpatient oncology.
For more information: Teresa E. McCabe, University Healthcare Vice President of Marketing and Development, 304-264-1223