Camden Clark Medical Center receives prestigious Baldrige Award for performance excellence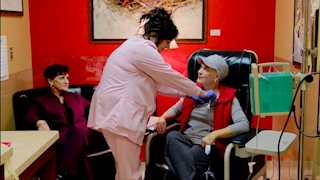 PARKERSBURG, W.VA. -- WVU Medicine Camden Clark Medical Center was named a Baldrige Award winner this week as the only hospital in the Mid-Ohio Valley to have received the distinction by the Columbus, Ohio-based The Partnership for Excellence.
"We are excited and honored to have received validation that our administration and staff's dedication to improving patient care is being recognized," Cindy Kern, vice president of quality and patient safety, said. "The Bronze level Baldrige Award is just the beginning of our journey to excellence and our commitment to improving how we serve this community."
To receive a Baldrige Award, an organization must have a role-model organizational management system that ensures continuous improvement in delivering products and/or services, demonstrates efficient and effective operations, and provides a way of engaging and responding to customers and other stakeholders.
Nine other high-performing organizations from Ohio and Indiana were also named recipients of the 2016 Awards for Excellence that honor performance excellence through innovation, results, and visionary leadership using the Baldrige Excellence Framework.
The Baldrige Excellence Framework has three parts: the Criteria for Performance Excellence, core values and concepts, and scoring guidelines. The framework serves two main purposes: (1) to help organizations assess their improvement efforts, diagnose their overall performance management system, and identify their strengths and opportunities for improvement and (2) to identify Baldrige Award recipients that will serve as role models for other organizations.
The Criteria for Performance Excellence are based on a set of core values:
Systems perspective
Visionary leadership
Customer-focused excellence
Valuing people
Organizational learning and agility
Focus on success
Managing for innovation
Management by fact
Societal responsibility
Ethics and transparency
Delivering value and results
"Camden Clark Medical Center is already known for their high performance, as recognized by Care Chex, the American Heart Association, and the Highmark Blue Distinction designation, however, beginning the Baldrige journey pushes high performing organizations, such as ours, to continue to excel and perform even better in all aspects of the healthcare business," Kern added.
For more information: Roger W. Lockhart, Camden Clark Director of Marketing and Public Affairs, 304-424-2071