Back to

News
Cancer Institute clinical team and transplant patients celebrate life at 25th annual patient reunion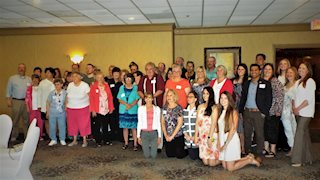 The WVU Cancer Institute Osborn Hematopoietic Malignancy and Transplantation Program has reached a significant milestone – 25 years of providing lifesaving transplants to West Virginians with blood and marrow diseases. The first transplant was performed in October 1992 and since then more than 1,350 patients have received the procedure and hundreds of non-transplant patients have received the latest treatment close to home.
WVU Cancer Institute physicians and clinical support staff marked the program's special anniversary by hosting a celebration of life for the patients they serve. "We are honored to be sharing this momentous day with you and your loved ones," Michael Craig, M.D., director of the program, told a roomful of transplant survivors at the 2018 Annual Patient Reunion at Lakeview Resort in Morgantown on May 19.
Patti Corley of Cumberland, Maryland, celebrated her 10th anniversary of having a transplant at last year's patient reunion and looked forward to attending the occasion this year. "I come to hear the inspirational stories and it's good to see the medical staff outside of the clinical environment," Corley said. Her husband Mark appreciated seeing other caregivers. "We are part of the same team, working together with the doctors, nurses and support staff, to care for our loved ones."
In addition to patients and their guests being treated to lunch, they also had a chance to win gift baskets and floral arrangements provided by oncology services faculty and staff.
Jack Eshelman of Buckhannon, who had his transplant in 1993, making him the longest surviving transplant patient at the event, and Kimberly Zandlo of Beckley, who had the procedure this past March, making her the most recent transplant patient, each received an angel handcrafted by Londia, Goff, one of the program's nurse clinicians. "It makes me feel good to see other transplant survivors here," Zandlo said.
Attendees were also entertained by fellow transplant patient Michael Mayhle and his family, who sang several uplifting songs, and who can be found singing in the hallways at the WVU Cancer Institute Mary Babb Randolph Cancer Center from time to time. "Thank you all, you've been a blessing to us," Mayhle said." He will be a four-year transplant survivor this July.
Dr. Craig said the transplant program has experienced a lot of changes and growth over the years. "We've gone from mainly transplants in which the patient's own stem cells were used to transplants using stem cells from other donors or stem cells from umbilical cord bone marrow. Later this year we will offer yet a new type of stem cell transplant. It's amazing the way we are able to intervene now and I can't wait to see what the next 12 years will bring."