Cancer Institute summer research fellow wins first place award at IDeA Conference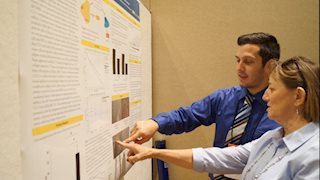 Daniel Berrebi, a 2017 WVU Cancer Institute summer research fellow, won first place in the cancer category of the student poster session at this year's Southeast Regional IDeA Conference in Morgantown. He was selected for his research titled Inhibition of CCL5 and Nodal by Adipose-derived Stem Cells in the Breast Tumor Microenvironment. In his work at the Cancer Institute under the mentorship of Linda Vona-Davis, PhD, Berrebi used 3D matrix models to study the role of stem cells in contributing to the spread of breast cancer.
The Southeast Regional IDeA Conference is a biennial meeting that connects biomedical research from across the seven states/territories in the southeast IDeA Region to discuss best practices, concepts, and ideas to further research throughout the region.
"This conference was a great opportunity to network with colleagues from across the region and discuss my research," Berrebi said. "I am incredibly honored that my work was recognized with this award."
Berrebi is a senior at WVU and is majoring in biology. He plans to go to medical school, then complete a surgical residency and continue investigative research as a physician. He is the son of Denise and Albert Berrebi of Morgantown.