Cancer Institute welcomes 2018 summer undergraduate research fellows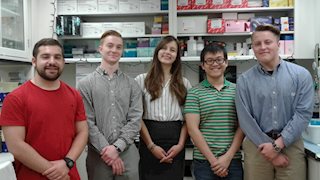 Five undergraduate students have been selected to participate in the Summer Research Fellowship Program this year at the WVU Cancer Institute.
Terezia Galikova, Robert Hickey, Nolan Holley and Nico Muttillo of WVU and Yongija "James" Deng of Vanderbilt University were welcomed this past week during an orientation where they exchanged introductions with the faculty they will be working closely with in Cancer Institute laboratories.
They also met with graduate students in the Institute's Cancer Cell Biology Program, learned about state-of-the-art instrumentation and equipment and services available to them, and were enlightened on various training seminars, workshops and programs to further enhance their research experience at WVU.
The highly competitive Summer Research Fellowship Program at the Cancer Institute provides funding and opportunities for undergraduate students who want to pursue careers in cancer research or medicine. Students receive a $4,000 stipend and are paired with a WVU cancer scientist for a 10-week research project.
The students and the labs they are working in are as follows:
Terezia Galikova (Ivan Martinez, Ph.D.)
Robert Hickey (Scott Weed, Ph.D.)
Nolan Holley (Laura Gibson, Ph.D.)
Nico Muttillo ((Linda Vona-Davis, Ph.D.)
Yongija "James" Deng (Elena Pugacheva, Ph.D.)
Photo: (l-r) Nico Muttillo, Robert Hickey, Terezia Galikova, Yongija "James" Deng and Nolan Holley