Care Connection program can help employees meet their healthcare needs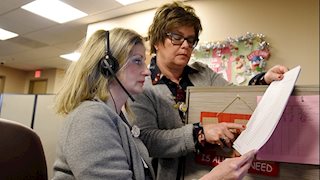 The WVU Medicine Care Connection program is designed to make it easier for employees to access care when they need it, helping to save time and money.
As part of the program, employees can use nurse navigators (nurses on call) and e-visits to meet the healthcare needs of their entire family from anywhere, at any time. It is available to employees (and family members) enrolled in a WVU Medicine medical plan. These free resources help quickly assess the appropriate level of care for each patient and reduce the number of unnecessary visits to the Emergency Department, Urgent Care, and other clinics.
The nurse navigators (nurses on call) are available 24/7 at 1-855-WVU-CARE. They answer questions and offer advice based on their experience. For more complex issues, the nurses have access to medical references and other resources, as well as other providers. In addition to answering questions, nurse navigators (nurses on call) will advise callers to seek medical care when appropriate, and they can assist with scheduling appointments. There may be times an e-visit is recommended.
E-visits are easily available through MyWVUChart for these conditions:
Back pain
Cough
Diarrhea (adult and pediatric)
Fatigue
Headache
Heartburn
Lice (pediatric)
Red eye (adult and pediatric)
Ringworm (pediatric)
Sinus issues
Swimmer's ear (pediatric)
Urinary tract infection (UTI)
Vaginal discharge
Once you log in, just follow a guided questionnaire, providing information that will either be forwarded to your primary care provider or the first available provider based on your selection. The provider will advise patients on the proper course of action. The response time on an e-visit will be no longer than six business hours if handled by your own provider. If the Urgent Care model is used, a response can be expected within three hours when the call occurs between 8 a.m. and midnight.
The Care Connection program was created to complement employees' healthcare experience. The goal is to use the right care team members to provide the right services at the right time.