Celebrate West Virginia's birthday at WVU Healthcare University Town Centre June 20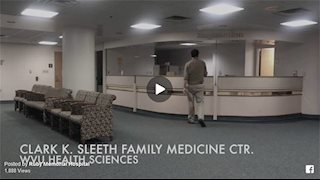 Everyone is invited to celebrate West Virginia's birthday during Community Day, hosted by WVU Healthcare at University Town Centre. From noon to 3 p.m. Saturday, June 20, the event will feature children's activities, character appearances, a live radio broadcast, facility tours and more.
Youngsters at Community Day can enjoy tours of rescue vehicles, including an ambulance, a helicopter and fire trucks. The BOPARC Bounce House and Art Cart will be available, along with face painting and games.
There will be appearances by WVU athletes,the Mountaineer, Hearts of Gold Service Dogs, West Virginia Black Bears mascot, Monti the Mountaineer Bear, Smokey the Bear and Woodsy Owl.
The community will also have the opportunity to meet healthcare professionals from Clark K. Sleeth Family Medicine Center, Pediatric and Adolescent Practice, Women's Health, Dermatology, Podiatry, Center for Joint Replacement, WVU Sports Medicine, Orthopaedics and General Internal Medicine and Geriatrics.
The U.S. Forest Service will help visitors learn how to keep West Virginia "Wild and Wonderful" by providing wildflower seeds. The Monongalia County Sheriff's Department will offer child seat safety inspections, while the West Virginia State Police will have child identification kids available.
WVAQ will broadcast live from the Community Day event. There will also be raffle prizes, cool giveaways, free snacks, local food vendors and the chance to learn about career opportunities at WVU Healthcare. View the flyer.