Ceremony marks Reynolds' addition to WVU Medicine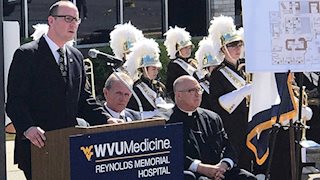 WVU Medicine has added to the scope and reach of its care with the addition of Reynolds Memorial Hospital in Marshall County.
Reynolds becomes the ninth hospital – and the first in West Virginia's Northern Panhandle – to join WVU Medicine. The addition was celebrated with a ribbon-cutting ceremony Monday, Oct. 3, at the facility in Glen Dale, W.Va.
"What makes this day so special for all of us is to not only be able to welcome Reynolds Memorial Hospital into the WVU Medicine Family, but to continue to recognize and build on the opportunity to serve as healthcare providers of this great state," Albert L. Wright Jr., president and CEO of WVU Medicine, said.
Other speakers at the event were U.S. Senator Joe Manchin, WVU President E. Gordon Gee, and David F. Hess, MD, CEO of Reynolds Memorial Hospital.
Dr. Hess said the event marked "the coming together of three entities: Reynolds Memorial Hospital, WVU Medicine, and the community." He said, "I can't think of a better partnership."
WVU Medicine is a $2 billion net revenue organization with nearly 13,000 employees.