Color Me Rad to benefit WVU Medicine Rosenbaum Family House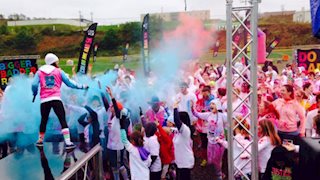 MORGANTOWN, W.Va. – For the third year, runners will be getting Rad in support of the WVU Medicine Rosenbaum Family House on Saturday (Oct. 3) at Mylan Park in Morgantown.
The Bigger, Badder, Radder Color Me Rad 5K is a family friendly event, and kids of all ages are invited to join in on the fun. Throughout the run, volunteers cover runners in colored gels, liquids, and powders, and each year, the colors get brighter and the fun gets bigger. The first wave of runners will take to the course at 9 a.m. followed by the second wave 20 minutes later.
A portion of the proceeds from Color Me Rad registrations benefit Rosenbaum Family House. Color Me Rad also provides Family House with dollars from every volunteer hour worked, if the volunteers registered in support of Rosenbaum Family House.
Volunteers not only support the 5K but will also help run a concession stand, the proceeds from which directly benefit Family House. Chick-fil-A will have breakfast sandwiches for participants to purchase and will donate part of those proceeds back to Family House.
When a serious illness or injury strikes, staying close to family is important. Rosenbaum Family House serves as the "home away from home" for adult patients and their families receiving care at WVU Medicine Ruby Memorial Hospital. Last year, Rosenbaum Family House served 1,607 families who stayed an average of seven days.
For additional information on how to support Rosenbaum Family House, please visit www.rfhwvuh.com or contact Teri Batis, development specialist, at 304-598-6094 (Opt 4).
--WVU MEDICINE--
15-144
For more information: Amy Johns, Director of Public Affairs and Creative Services, 304-293-7087
ps: 09-29-15