Back to

News
WVU, Uniformed Services University form unique collaboration to combat the opioid epidemic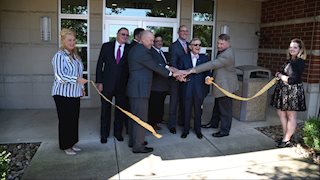 MORGANTOWN, W.Va. – Drawing from the latest strategies and techniques in battlefield medicine, leaders from West Virginia University are collaborating with the Uniformed Services University's Defense and Veterans Center for Integrative Pain Management (DVCIPM) to combat opioid misuse and addiction in the state of West Virginia.
Opioids are the main driver of drug overdose deaths across the United States, and West Virginia has been among the hardest hit by the crisis, experiencing the highest overdose death rates in the country. With a shared vision of combating this growing epidemic, health care providers and researchers from the Uniformed Services University (USU) and WVU recently established an official collaboration to pool their resources.
"It's clear that the opioid epidemic and the chronic health problems we encounter in West Virginia and beyond are symptoms of a deeper problem," Clay Marsh, M.D., WVU health sciences vice president and executive dean, said. "USU has developed pain management treatment protocols over several years that recognize the need to focus on more than just the disease. Our partnership allows us to learn from their models, share resources and best practices, and expand treatment options for our state's residents to successfully combat opioid misuse."
WVU Medicine opened the doors in May to a new Integrative Pain Management Center, which is now treating residents struggling with opioid addiction. There, several DVCIPM resources have been implemented to support residents in the Morgantown community, such as a more comprehensive pain assessment survey, known as the Pain Assessment Screening Tool and Outcomes Registry (PASTOR). This tool helps generate a detailed 3-page report for physicians about how their patient is experiencing pain. Providers can gather an incredible amount of information about a patient in a matter of just 20 minutes, as opposed to many hours. The pain management center also offers a range of psychiatric and psychological services, as well as movement therapy and massage.
Marc Haut, M.D., chair of WVU School of Medicine's Department of Behavioral Medicine and Psychiatry, has been leading efforts, as a principal investigator, to develop future research projects as part of the agreement, in line with the School of Medicine's mission: to provide clinical care, through evidence-based research, as well as to educate and train through research. He hopes that this effort will matriculate beyond WVU's walls, ultimately supporting other providers, and residents, throughout the state.
"We have a serious problem, and this is really going to make an impact," Dr. Haut said. "Our goal is to take care of the people in the state of West Virginia."
Haut also hopes these endeavors will lead to additional collaborations in the future between both universities and within other departments and centers.
For news and information on the WVU School of Medicine, follow us on twitter @WVUMedSchool, like us on Facebook or visit medicine.hsc.wvu.edu.
—WVU—
Contact: Tara Scatterday
Director, Communications and Marketing
WVU School of Medicine
304-293-0630 | tdscatterday@hsc.wvu.edu
SM/TS: 08/24/2017
Full story at the Uniformed Services University website.
Header Image: West Virginia University leaders, including President E. Gordon Gee and Health Sciences Vice President Clay B. Marsh, M.D., celebrate at a recent ribbon-cutting ceremony for WVU Medicine's Integrative Pain Management Clinic.