WVU Medicine sponsors upgrade of Fit Stop along trail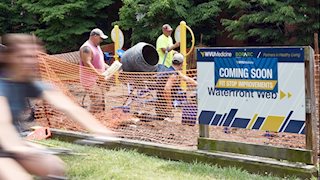 WVU Medicine is committed to improving the health and quality of life of West Virginians – in the healthcare setting and in the communities served.
WVU Medicine and the Morgantown Board of Parks and Recreation Commissioners (BOPARC) are Partners in Healthy Living.
BOPARC employees are in the process of replacing the fitness stations at the WVU Medicine Fit Stop on the Capterton Trail, along the Monongahela River behind the Morgantown Marriott at Waterfront Place. WVU Medicine also sponsors the Waterfront Web Playground next to the Fit Stop.
Work is expected to continue through this week and could be finished as soon as June 30. Weather will determine how much progress is made.
Some of the other BOPARC projects WVU Medicine supports are:
Skyrock Playground at Dorsey's Knob
The Singing Tree: A Celebration of Diverstiy (mural along the trail)