Cradles for Cancer raises breast cancer awareness and support for research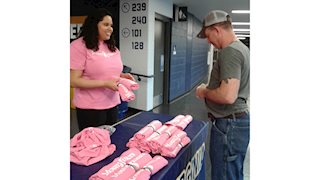 The WVU wrestling team is raising breast cancer awareness and supporting research to fight the disease. During the annual Cradles for Cancer pink match on Feb. 11, the Mountaineers collaborated with WVU Medicine and the WVU Cancer Institute to offer fans the chance to own an official pink Mountaineer T-shirt in exchange for a $10 dollar minimum donation to the Cancer Institute's Breast Cancer Program.
More than $700 was raised through the shirts, and an additional $1,000 donation to the program came from Monarch Youth Wrestling in Glen Dale, WV. In just one week, the young wrestlers and their parents raised the money by asking for donations from their friends and family members. Monarch Coach Joe Giovengo said he and his staff wanted to teach the kids about "giving back, caring for one another, and supporting a great cause that has affected so many people." Giovengo, who was recently diagnosed with cancer, and his family, including his mother, a two-time breast cancer survivor, were all honored during the pink wrestling match.