Dance Dash 5K to raise money for kids with cancer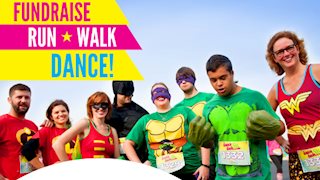 MORGANTOWN, W.Va. – Run, shake, and shimmy your way to support families battling cancer at the 2015 Dance Dash 5K at 2 p.m. on Saturday, Oct. 31, at Ruby Memorial Hospital. All proceeds will benefit the Cure Kids Cancer Fund at WVU Medicine Children's, the state's only Children's Miracle Network Hospital.
The Dance Dash, created exclusively for Children's Miracle Network hospitals, combines dancing and running or walking throughout a 5K. Each mile, participants learn a new dance move or routine and then show off their new moves in a giant flash mob at the end.
This year, WVU Medicine Children's has teamed up with A.W. Dance Company and Pizazz Dance Academy to teach participants the steps to "Thriller" by Michael Jackson.
Participants can earn fun prizes by meeting fundraising goals. Raise $25 to receive colorful Dance Dash sunglasses, $50 to receive the sunglasses plus a bright headband, and $100 to receive a Dance Dash water bottle in addition to the other prizes.
Bright colored tutus are available for $10 to accessorize race day gear for those who register by Oct. 17.
The Dance Dash 5K will begin with packet pick up at 12:30 p.m. across from the entrance to Ruby Memorial. Patient families impacted by WVU Medicine Children's will be leading the way.
Registration is now open at www.DanceDash.org, and sponsorship opportunities are also available. Early bird registration -- $25 for adults and $10 for children under 12 – ends Oct. 23. After that date, the cost will increase to $30 for adults and $15 for kids.
--WVU MEDICINE--
15-152
For more information: Amy Johns, Director of Public Affairs and Creative Services, 304-293-7087
sw: 10-08-15