Davis Health System Announces Partnership with WVU Medicine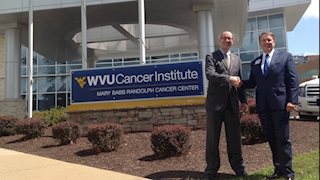 A new partnership between Davis Health System and WVU Medicine will benefit and strengthen cancer, cardiology, pulmonology and vascular services in the communities DHS serves.
DHS and WVU Medicine officials announced Tuesday that the partnership will establish a Heart and Vascular Institute within Davis Medical Center's new outpatient center bringing access to advanced diagnostics, expertise and resources in cardiology, pulmonology, and vascular care.
In addition, the groups will enhance medical and radiation oncology at the Davis Medical Center Cancer Care Center. Dr. Donald Fleming and Dr. Marshall Sklar will continue to lead the medical and radiation oncology programs at the cancer center. A Certificate of Need application will be filed with the West Virginia Health Care Authority seeking approval for the proposed enhancements.
"This partnership represents a major step forward in achieving leading-edge specialty care for those in Randolph, Barbour, Tucker, Upshur and Pocahontas counties," said Davis Health System CEO Vance Jackson. "We're pleased to work more closely with WVU Medicine. It's a great opportunity to offer our patients an even wider range of conveniences and options for care close to home."
"By entering into this partnership, we are strengthening our long-time, positive relationship with Davis Health System," Albert Wright, president and CEO of WVU Medicine-WVU Hospitals and COO of WVU Medicine-West Virginia University Health System, said. "Davis has been and will continue to be a great ally in helping us achieve our mission of providing care to people in all across the state and region."
The strategic move creates a partnership for specialized services without merger or acquisition by either health system, providing a landscape for the highest quality and more efficient care for patients.
In 2009, WVU and Davis Health expanded access to cardiology services with the development of an outpatient clinic on the Davis Medical Center campus. The new partnership builds on those existing relationships to further improve the health of the region.
"We're bridging the silos between the two medical institutions to bolster and unify resources," said Jackson. "It demonstrates our stance as a progressive and responsive community hospital working to improve care coordination and reduce cost for our patients."
Instrumental in designing the new cardio-vascular partnership with Davis Health System was Vinay Badhwar, M.D., who serves as the Executive Chair of the WVU Heart and Vascular Institute. Dr. Badhwar is internationally recognized as a master cardiac valve surgeon and a team-builder with extensive cardiovascular healthcare leadership experience.
"It is a privilege and pleasure for the WVU Heart and Vascular Institute to partner with Davis Health System to enhance the level of care and services already provided locally by our excellent physicians," Badhwar said. "With this new alliance, our mission will be to provide patients and the Davis Medical Center physicians with direct access to board-certified expert cardiovascular physicians and the most state-of-the-art care available in the state."
The new Heart and Vascular Institute will be located on the second floor of Davis Medical Center's outpatient center. The space, which is currently unoccupied, will be ready for patients by January, 2017.
"Our physicians and hospitals will work much more closely together. We want to be very aligned with the cancer and heart and vascular care we provide," Jackson said. "Co-branding our programs with WVU Medicine will give patients peace of mind that they are receiving the highest quality of care."
The groups will work through the details and the timelines of the partnership over the coming months. Once formed, the Heart and Vascular Institute will encompass a full spectrum of patient care and wellness/rehabilitation services: comprehensive inpatient and outpatient care; medical directorships; specialty medicine clinics; rehabilitation; consultations; cardiac stress testing; broader use of telemedicine; diagnostics and study interpretations.
"Keeping patients in their local communities for care is beneficial for everyone, most of all the patient," said Jackson. "More patients will be diagnosed and treated at Davis Medical Center, lessening the need to travel for those same services."