Day of Miracles to benefit WVU Medicine Children's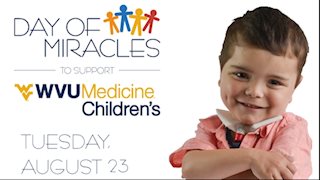 Statewide fundraising event set for Aug. 23
MORGANTOWN, W.Va. – Miracles happen every day within the walls of WVU Medicine Children's – babies are born, kids recover from life-threatening illnesses and injuries, and they go home to live the happy and healthy lives they were destined to live. Radio stations across the state and region will join forces to celebrate the Day of Miracles from 6 a.m. to 6 p.m. on Tuesday, Aug. 23, so that even more miracles can happen.
Families from all corners of West Virginia and the surrounding region turn to WVU Medicine Children's thousands upon thousands of times each year and find hope, healing, and miracles of their very own.
For example, in 2015, families from the Beckley area turned to WVU Medicine Children's 19,627 times. For families from the Charleston area, it was 13,703 times. Cumberland-area families counted on WVU Medicine Children's 32,251 times in 2015, while Parkersburg and Wheeling area families found their hope and healing 10,693 and 7,451 times, respectively. And, in Morgantown and the north-central West Virginia region, the numbers nearly reached 200,000 with 199,246.
Listeners can call into their local radio stations and make a donation to WVU Medicine Children's. The number to call during the Day of Miracles is 877-719-KIDS (5437)
The following radio stations will broadcast the Day of Miracles:
Beckley

Groovy 94.1 FM
WBKW (1070 AM, 93.5 FM)
WWNR (620 AM, 101.1 FM)

Charleston

Electric 102.7 FM
WQBE (97.5 FM)

Cumberland
Morgantown

WAJR (1440 AM)
WVAQ (101.9 FM)

Parkersburg

Froggy 99 (99.1 FM)
Z106 (106.1 FM)

Wheeling

WKKX (1600 AM)
WVLY (1370 AM)
In the meantime, there are a variety of ways for individuals and businesses to become Miracle Makers, including collecting new toys and stuffed animals, selling Children's Miracle Network paper icons, and collecting change.
For more information on the Day of Miracles, including ways to get involved, visit www.wvukidsdayofmiracles.com.
WVU Medicine Children's – located on the sixth floor of Ruby Memorial, WVU Medicine's flagship hospital – provides maternal, infant, and pediatric care for West Virginia and the surrounding region, giving care to high-risk mothers, premature infants, and children with life-threatening conditions through adolescence to adulthood. It is the state's only Children's Miracle Network Hospital. For information on WVU Medicine Children's, see wvumedicine.org/childrens.
For more information: Angela Jones-Knopf, Manager of Media Relations, 304-293-7087