Demystifying Dental Phobias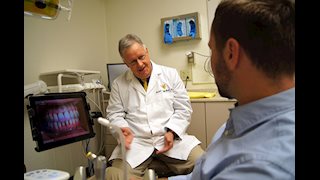 Study eases fears, helps participants receive care that is necessary
Like the pursuit of a cure for the common cold, Daniel W. McNeil, PhD, has set his sights on finding a remedy for a problem that is not likely to go away any time soon.
Dr. McNeil is a College of Eberly Arts and Sciences distinguished professor and licensed clinical psychologist with a dual appointment in two WVU departments (Psychology and Dental Practice and Rural Health). He is using his research to find ways to alleviate fear and anxiety about dental visits. About 15 percent of people don't make regular visits to the dentist because of fear, he said.
"Research on dental fear in the US has shown that fear levels haven't changed in the last 50 years," McNeil said. "You might think with advances in technology, that surely these fear levels would be better. Unfortunately, they're not."
Director of the WVU Anxiety, Psychophysiology, and Pain Research Laboratory, McNeil has emerged as a global leader on the topic of behavioral dentistry since arriving at WVU in 1994. He is leading a project at the WVU dental clinic that involves a method called exposure treatment, with the aim of slowly coaxing volunteer patients into visiting the dentist. Patients watch a series of videos on an iPad to slowly introduce them to procedures and remove the fear of the unknown. Once they've watched the videos, the next step is a light cleaning. As their teeth are cleaned, they experience keeping still in a dentist's chair, having their mouth open, and being exposed to some of the tools that dentists and hygienists use.
The study also includes a clinical trial of a medication that may help patients learn and benefit more quickly from the exposure treatment.
"You gradually expose the person to whatever it is they're fearful of in a graded, step-wise fashion. They learn coping mechanisms to deal with it," McNeil said.
Combining iPad technology with the exposure treatment and enhancing the patient's learning with a medication are what makes his approach innovative, McNeil said. He hopes it will someday become a part of the culture of dental practices.
More than a decade ago, McNeil was one of the original scientist-clinicians who helped develop the Center for Oral Health Research in Appalachia, or COHRA, to address the oral health problems of the people in the state and region. The project is a collaboration between WVU, the University of Pittsburgh, and the University of Michigan. Through COHRA, McNeil has been the principal investigator or co-investigator on multiple National Institutes of Health-funded grants that explore factors involved in oral health problems in Appalachia.
The research overlaps with McNeil's behavioral medicine teaching, which has become a crucial part of the School of Dentistry's curriculum. WVU was early to embrace behavioral medicine – it hosted the first conference focused on dental behavioral medicine in the nation in the 1970s.
Although the concept of fear and pain in medical procedures is common knowledge, students and even practitioners may have only a notion of the scope of the problem and strategies they can use to help patients overcome their reticence and become regular visitors.
The better training the students receive, the more likely they'll be to help their patients while also attracting a wider patient base.
"Chair side manner in dentistry is critically important – the dentist's demeanor, the hygienist's demeanor," McNeil said. "And oral health providers need to know how to respond if a patient asks something like, 'How much is this going to hurt?'"
McNeil is easily as crucial to the success of graduate scholars. Cameron L. Randall, a psychology master's student and doctoral candidate, came to WVU from the University of North Carolina with a budding interest in dentist/patient relationships and optimizing access of care.
Serving as a research assistant in various dental phobia projects has helped Randall immerse himself more deeply in his interests, and the experience has helped him secure his own National Institutes of Health-funded grant. McNeil's name and reputation were factors in drawing Randall to WVU. Once in Morgantown, Randall saw the reputation was well-earned.
"What he's done is taken important work done in behavioral sciences and behavioral psychology specifically and applied that to healthcare and dentistry in ways that other people haven't necessarily done. Bringing these areas together in creative, novel ways has made him a thought leader," Randall said.
McNeil doesn't just look locally for answers to his challenge. In 2010, he used a Fulbright Senior Scholar Fellowship to visit New Zealand to study and live among its indigenous, Polynesian people, the Māori. During his experience, he studied the effects of differing cultures on medical care.
He has also widely published and presented findings of his research, both nationally and internationally. In June, he presented his research at an International Association for Dental Research conference in Cape Town, South Africa. McNeil attends several conferences a year, presenting research and looking for colleagues and prospective collaborators with similar interests.
Sarah Hayes, a WVU doctoral student in clinical psychology, has worked with McNeil for more than two years. She manages recruitment, screening, and scheduling of participants for the dental phobia project as well as coordinating the multidisciplinary research team (hygienist, dentist, phlebotomist, etc.)
"Several patients have remarked that by the end of the study, they do not feel as overwhelmed about the prospect of visiting the dentist," Hayes said. "Many people with dental phobia feel ashamed of their fear and often feel alone and embarrassed that they've avoided going to the dentist for so long. I think the mere fact that our study exists helps people feel less alone."