Department of Otolaryngology residents participate in research competition at Schein Conference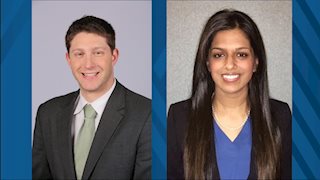 The future of surgical training was the subject of a panel discussion recently at the Schein Conference at the University of Pittsburgh.
Panel members were chair of Otolaryngology at UPMC, Dr. Jonas Johnson; Chair of Otolaryngology at Case Western Reserve, Dr. Cliff Megerian; Chair of Otolaryngology at Washington University St. Louis, Dr. Craig Buchman; and, Chair of Otolaryngology at WVU, Dr. Hassan Ramadan.
The panelists addressed the improvements in surgical technology and subsequent boom in surgical procedures, ranging from minimally invasive endoscopic techniques to robotic and virtual surgery.
The concern was whether the current structure of resident training will support adequate surgical training of residents or whether it is time to start rethinking our training practices in this new era.
Two WVU residents also participated in the Schein competition for best research among the above institutions:
Dr. Scott Shapiro presented: " Selective Deletion of Endothelin Receptor B in the Mouse Auditory Brainstem"
Dr. Shilpa Vishwanath presented: "Intranasal Opioid abuse in West Virginia: Case Series"
Dr. Shapiro won third prize for his presentation.