Discharge Pharmacy serves key role for patients, providers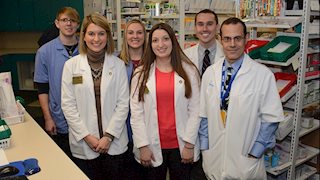 There's a team of problem-solvers on the first floor of the Physician Office Center whose behind-the-scenes efforts are contributing to a seamless continuum of care for a segment of patients each day at Ruby Memorial.
The group is known as the WVU Medicine Discharge Pharmacy, and, at times, pharmacist Larry Calemine would like their efforts to be a little less behind-the-scenes. Raising awareness of the Discharge Pharmacy, which is located within the Med Center Pharmacy and open 362 days a year, is an ongoing mission for the unit.
Communication is the key to that mission. A representative from the Discharge Pharmacy is part of daily rounding on each unit to offer patients a convenient, inexpensive option for their medications and a multitude of services. Around 30 percent of the patients at Ruby opt to use the Discharge Pharmacy, Calemine said. And if providers act quickly enough, the Discharge Pharmacy can have a patient's medication ready for them as they leave the hospital or, in some cases, at their bedside before they leave.
"Even though their regular pharmacy might take hours to fill a prescription, we're perceived as slow when we take a couple of hours," Calemine said.
The Discharge Pharmacy offers in-house delivery for patients at Ruby and mail delivery to patients' homes. It is open seven days a week, weekdays from 7:30 a.m. to 6 p.m. and Saturdays from 7:30 a.m. to 5 p.m. The final deliveries are made at 7 p.m. on weekdays and 5 p.m. on Saturdays
The Discharge Pharmacy also has access to more difficult medications that may not be commercially available and, through the Med Center Pharmacy, can provide specialized drugs that are compounded on site. Rare medications are often expensive, but Calamine says the Discharge Pharmacy will work with patients and their insurance companies to provide the best solution possible.
Getting information in advance from providers and working as a team are the keys to an efficient process but, due to the rotations of medical teams and turnover typical of a large organization, is a continuous work in progress. Calemine says he meets with physicians monthly and nurses every three to six months to remind them about the Discharge Pharmacy and how best to take advantage of its services.
Along with helping patients, the Discharge Pharmacy has other house-wide benefits, including the potential for reducing admissions and re-admissions. That potential could result in organizational savings at a million-dollar level, Calemine says.
A recent patient who was unable to obtain blood-clotting medication started the process of admitting himself to the WVU Medicine Emergency Department but providers notified the Discharge Pharmacy and a prescription was quickly provided. The fast action prevented an unnecessary hospital visit.
Instances like these are not a daily occurrence, Calemine says, but serve as a reminder of the value of the Discharge Pharmacy. A recent article in the American Journal of Health-System Pharmacy, contributed by members of the WVU Medicine Discharge Pharmacy, outlines its value in greater detail.
"It's not about making this a better business, it's about helping patients and contributing to their transition to care," Calemine said.
CAPTION: Staff members of the Discharge Pharmacy are, from left to right, back row: Jordan Reaves, Chelcee Rinker, Logan Sanders; front row: Stephanie Glance, Marka Stephens, Larry Calemine. Not pictured: Krista Dupont, Callie Paul, Renee Hardman, Tyfani White.