Doctors' Day provides opportunity to recognize outstanding physicians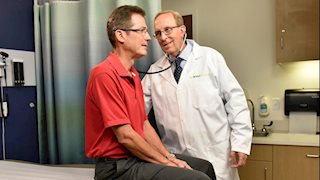 Wednesday, March 30, is National Doctors' Day, and it is an opportunity to recognize outstanding WVU Medicine providers not only for their ability to diagnose and heal, but also for their compassion and kindness.
Since the yearly celebrations began in 2006, WVU physicians have received hundreds of messages of thanks and appreciation from current and former patients. Patients are also able to make a tax-deductible gift in honor of their physician.
Doctors' Day brochures containing submission forms are located throughout the WVU Medicine campus and clinics, and at area pharmacies. To submit a message or make a gift, visit wvumedicine.org/national-doctors-day/.
Each honored physician will receive a certificate with patients' written messages, displaying thankfulness for their commitment to good health.
All healthcare providers are invited to stop by the WVU Medicine University Town Centre first floor lobby or outside the Health Sciences cafeteria from 11:30 a.m. to 1:30 p.m. Wednesday, March 30, for a special thank you from the Office of Philanthropy.