'Doctors on Call' show to focus on arthritis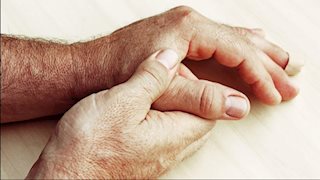 Live TV show to air at 8 p.m. May 25 on West Virginia Public Broadcasting
MORGANTOWN, W.Va. – Knees, hips, fingers, shoulders – arthritis can cause pain in joints all over the body, and it affects millions of people. What can be done about it? Find out on the next "Doctors on Call" at 8 p.m. on Thursday, May 25, on West Virginia Public Broadcasting.
During live interviews, Mollie Cecil, M.D., WVU Medicine family medicine specialist, will share her experience with Lyme disease. Ghulam Abbas, M.D., director of surgical thoracic oncology at the WVU Cancer Institute, will discuss the importance of screening for lung cancer, and George Sokos, D.O., director of advanced heart failure at the WVU Heart and Vascular Institute, will dispel some myths about being an organ donor. WVU Medicine pharmacist Charles Ponte, Pharm.D., and director of outpatient pain services Richard Vaglienti, M.D., will appear back to back to discuss both medications and alternatives to medicine to relieve chronic pain.
Don't miss the story of Randy Ash, who experienced a severe hunting accident and was rushed to the Jon Michael Moore Trauma Center at J.W. Ruby Memorial Hospital.
"DOC Talk," the call-in portion of the show, will provide viewers with the opportunity to ask questions about arthritis of two WVU Medicine experts – rheumatologist Bruce Rothschild, M.D., and orthopaedic surgeon Matthew Dietz, M.D.
It's summer! That means cook-outs and picnics, and "DOC in the Kitchen" will show you how to practice food safety while you enjoy summer treats. Summer can also bring allergies, and the "DOC List" has the most common allergy triggers. The "DOC Demo" will show you some warm-water exercises in the pool that can relieve arthritis pain, and "It's No Big Deal" will show you how easy it is to become an organ donor.
WVU Medicine physicians John Phillips, M.D., and Kathy Moffett, M.D., will host the show. Highlights will be tweeted live on Thursday evening (@DOCWVU). Viewers can also get updates, suggest topics, and provide feedback anytime on Facebook (facebook.com/DoctorsOnCallWVU).
Now in its 25th season, "Doctors on Call" is an hour-long magazine-style show that airs quarterly.
To see previous episodes, visit wvumedicine.org/DOC.
For more information: Sarah Wisniewski, Communications Specialist, 304-293-7087