"Doctors on Call" show to focus on back and joint problems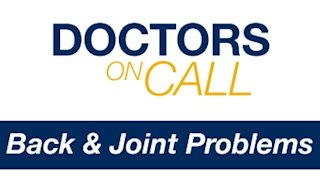 Live show to air at 8 p.m. March 10 on West Virginia Public Television
MORGANTOWN, W.Va. – If you're one of the 31 million Americans who suffer from back pain, be sure to tune into the next "Doctors on Call" at 8 p.m. on Thursday, March 10 on West Virginia Public Television. Experts will have advice on all things spine, bone, and joint related.
During live interviews, Aaron "A.J." Monseau, M.D., WVU Medicine emergency medicine physician and U.S. Olympic wrestling team physician, will offer tips to stay healthy while exercising, and Jim Berry, D.O., addiction specialist and medical director of the WVU Medicine Chestnut Ridge Center, will join host Carl "Rolly" Sullivan, M.D. – also an addiction specialist – to discuss the opioid overdose antidote naloxone. Another familiar face, Doctors On Call host and infectious diseases specialist Kathy Moffett, M.D., will join the show as a guest to give the latest news about the Zika virus. Other segments will explore osteoporosis, juvenile arthritis, diabetic eye exams, bone loss prevention, and more.
"DOC Talk," the call-in portion of the show, will provide viewers with the opportunity to ask questions of two WVU Medicine spine experts – John France, M.D., and Scott Daffner, M.D.
Doctors On Call will show you that "It's No Big Deal" to get a bone density scan. The "DOC Demo" will teach viewers how to administer the opioid overdose antidote naloxone, and the chefs in the "DOC in the Kitchen" segment will get creative to find alternative sources of calcium for those who can't consume dairy products.
WVU Medicine physicians Dr. Sullivan and John Phillips, M.D., will host the show. Highlights will be tweeted live on Thursday evening (@DOCWVU). Viewers may also get updates, suggest topics, and provide feedback anytime on Facebook (www.facebook.com/DoctorsOnCallWVU).
Now in its 24th season, "Doctors On Call" transitioned from a weekly, half-hour-long, live call-in show to an hour-long magazine style show in 2014. The show airs quarterly.
To see the previous episodes, visit the WVU Medicine YouTube channel at www.youtube.com/WVUMedicine.
For more information: Amy Johns, Director of Public Affairs and Creative Services