"Doctors on Call" show to focus on family health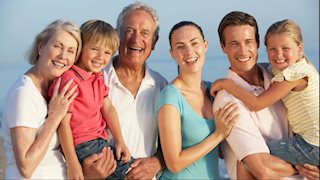 Last show for long-time series on West Virginia Public Television
MORGANTOWN, W.Va. – Are you doing everything you can possibly do to stay healthy? Is your family in good health? Find out on the next "Doctors on Call" at 8 p.m. on Thursday, Feb. 22 on West Virginia Public Broadcasting.
After 730 shows over 25 seasons, this episode of "Doctors On Call" will be last for the popular statewide health program. The first show aired on Jan. 14, 1993. Over the years, guests have included former West Virginia Gov. Bob Wise, former W.Va. First Lady Gayle Manchin, U.S. Sen. Joe Manchin, and former U.S. Sen. Jay Rockefeller, along with many expert WVU Medicine physicians and other health professionals.
On Thursday's program, Arif Sarwari, M.D., an infectious diseases specialist with WVU Medicine, will discuss the flu epidemic, and Christi Cooper-Lehki, D.O., WVU Medicine psychiatrist, will talk about dealing with sexual assault and abuse. WVU Heart and Vascular Institute cardiologist Partho Sengupta, M.D., will also appear live. February is National Children's Dental Health Month, and Michael Bagby, D.D.S., Ph.D., WVU Dental Care interim chair of Pediatric Dentistry, will discuss the importance of making sure your kids get regular dental care.
Don't miss the stories of Larkin Coker, an 8-year old cancer survivor, and Kevin Eckenrode, who has recovered from a traumatic boating accident.
"DOC Talk," the call-in portion of the show, will provide viewers with the opportunity to ask questions of two WVU Medicine experts – Kendra Unger, M.D., a WVU Family Medicine specialist, and Kathy Moffett, M.D., a WVU Medicine pediatric infectious disease specialist and long-time host of "Doctors on Call."
The "DOC List" will explore the most prevalent health problems faced by West Virginians. On the "It's No Big Deal" segment, the importance and ease of being tested for HIV will be featured. "DOC in the Kitchen" will show you the best ways to stay hydrated for good health.
WVU Medicine physicians John Phillips, M.D., and Dr. Moffett, will host the show. Highlights will be tweeted live on Thursday evening (@DOCWVU).
Other segment hosts include Joe Prudhomme, M.D., Lisa Costello, M.D., and Mahreen Hashmi, M.D., all WVU Medicine physicians.
To see previous episodes, visit wvumedicine.org/DOC.
For more information: Amy Johns, Director of Public Affairs and Producer of Doctors on Call, 304-285-7264