"Doctors on Call" show to focus on the brain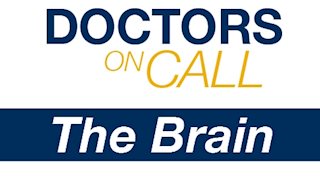 Live show to air at 8 p.m. Dec. 3 on West Virginia Public Television
MORGANTOWN, W.Va. – If you have sugar plums and other holiday-related stressors dancing in your head, be sure to tune into the next "Doctors on Call" at 8 p.m. on Thursday, Dec. 3 on West Virginia Public Television. "Doctors on Call" is here to help with advice on all things brain-related,
from mental health to healthy sleep.
During live interviews, Alison Wilson, M.D., director of the WVU Medicine Jon Michael Moore Trauma Center, and Krstal Thompson, D.D.S., WVU Dental oral and maxillofacial surgery chief resident, will share stories of traumatic injuries and remarkable recoveries. Basel Danan, D.D.S., WVU Dental periodontist, will talk about overcoming dental fear, and Keziah Sully, M.D., a WVU Medicine concussion expert, will appear live to discuss concussion effects and the path to recovery. Other segments will explore Seasonal Affective Disorder treatments, telepsychiatry, modern electroconvulsive therapy, neuroplasticity, and holiday stress management tips.
"DOC Talk," the call-in portion of the show, will provide viewers with the opportunity to ask questions of two WVU Medicine mental health experts – Christi Cooper-Lehki, D.O., and Stephanie Cox, Ph.D.
Doctors On Call will show you what is involved with a sleep study and that really, "It's No Big Deal." The "DOC Demo" will teach viewers how to tell if someone is having a stroke, and the chefs in the "DOC in the Kitchen" segment will present a full holiday meal that's as healthy as it is delicious.
WVU Medicine physicians John Phillips, M.D., and Kathy Moffett, M.D., will host the show. Three additional physicians – Carl "Rolly" Sullivan, M.D., Mahreen Hashmi, M.D., and Joe Prudhomme, M.D. – will be featured in segments throughout the show.
Highlights will be tweeted live on Thursday evening (@DOCWVU). Viewers may also get updates, suggest topics, and provide feedback anytime on Facebook (www.facebook.com/DoctorsOnCallWVU).
Now in its 24th year, "Doctors On Call" transitioned from a weekly, half-hour-long, live call-in show to an hour-long magazine style show last year. The new "Doctors On Call," which premiered in 2014, airs quarterly. To see the previous episodes, visit the WVU Medicine YouTube channel at www.youtube.com/WVUMedicine.
--WVU MEDICINE--
15-174
For more information: Amy Johns, Director of Public Affairs and Creative Services, 304-293-7087
sw: 11-30-15