Don't miss today's Employee Appreciation Picnic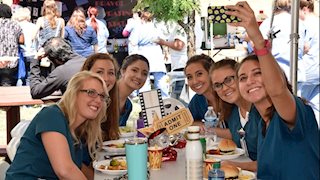 On Thursday, Aug. 3, WVU Medicine-WVU Hospitals invites you to "go camping," as it celebrates its employees at this year's Employee Appreciation Picnic. Come on down – it will be s'more fun than you can handle!
The night-shift event will be held from 12:30-3:30 a.m., and the day-shift event will take place from 10:30 a.m.-5 p.m. Both events will be held in the same location. So take a break and hike on over to the Blanchette Rockefeller Neurosciences Institute lawn (same location at weekly farmers market).
Employees are reminded to bring their ID badge for admission to the picnic and to participate in drawings for prizes.
Both the day- and night-shift events will include entertainment from the band Double Barrel Dixie, as well as games and a delicious menu of traditional camping food, drinks, and desserts. There will be vegetarian options.
Employees will also find plenty of activities provided by participating groups, including the Bravo! Program, Compliance, Revenue Cycle Operations, and the United Way Campaign. If your department would like to participate, it's not too late. Just contact Becky Wright. This year, there will be a competition between participating groups. Categories include best decorated tent/station and the most exciting game based on the picnic's camping theme.
Gold Rush T-shirts will be available at the event. The WVU Medicine United Way Campaign is working with WVU to make the shirts available to employees attending the picnic. The shirts are being sold for this year's WVU Football Gold Rush game, which will take place on Saturday, Sept. 9. Gold Rush T-shirts are $10 each when purchased at an on-campus location. Proceeds from the shirt sales benefit the United Way of Monongalia and Preston Counties. Please bring cash or credit card if you would like to purchase a shirt during the event. Forms will also be available if departments would like to place an order and have the shirts delivered to their work location.
For employees' convenience, a shuttle service will run to/from the WVU Medicine Operations Support Center (ROC 2) and the picnic from 10 a.m.-2 p.m. on the day of the picnic.
Picnic organizers would like to thank the Employee Appreciation Picnic vendors: RH Events and Promotions, McGuffey's Tents, Home City Ice, Double Barrel Dixie Entertainment, and Coca-Cola Bottling Company. They would also like to thank those who have signed up to volunteer at the event.
Finally, a big thank you to all WVU Medicine employees. This picnic is a small token of appreciation for all you do, every day, for our patients and their families.