DQ Miracle Treat Day to benefit WVU Medicine Children's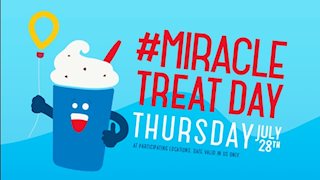 $1 per Blizzard Treat will be donated
MORGANTOWN, W.Va. – Put down the summer squirt guns, and grab a spoon because it's time for a blizzard.
To celebrate Miracle Treat Day this Thursday (July 28), $1 or more will be donated to WVU Medicine Children's for every Blizzard® Treat purchased at one of 50 participating Dairy Queen® or DQ Grill & Chill® restaurants throughout West Virginia, Ohio, and Virginia.
WVU Medicine Children's is the only Children's Miracle Network Hospital in the state of West Virginia. Children's Miracle Network Hospitals provide care to more than 10 million children each year.
Dairy Queen has celebrated Miracle Treat Day for more than 10 years. Last year, more than $5 million was donated to Children's Miracle Network Hospitals across the United States and Canada. Like all Children's Miracle Network Hospitals campaigns, Miracle Treat Day donations stay in the community to help local kids.
Since 1984, the Dairy Queen system has raised more than $115 million for Children's Miracle Network Hospitals in local communities through fundraising efforts including Miracle Treat Day, the Miracle Balloon campaign, and other local initiatives
For more information about Miracle Treat Day, including a listing of participating locations, visit MiracleTreatDay.com and connect on social media using #MiracleTreatDay.
About WVU Medicine Children's:
WVU Medicine Children's – located on the sixth floor of Ruby Memorial, WVU Medicine's flagship hospital – provides maternal, infant, and pediatric care for West Virginia and the surrounding region, giving care to high-risk mothers, premature infants, and children with life-threatening conditions through adolescence to adulthood. For information on WVU Medicine Children's, see wvumedicine.org/childrens.
About Children's Miracle Network Hospitals:
Children's Miracle Network Hospitals® raises funds and awareness for 170 member hospitals that provide 32 million treatments each year to kids across the U.S. and Canada. Donations stay local to fund critical treatments and healthcare services, pediatric medical equipment and charitable care. Since 1983, Children's Miracle Network Hospitals has raised more than $5 billion, most of it $1 at a time through the charity's Miracle Balloon icon. Its various fundraising partners and programs support the nonprofit's mission to save and improve the lives of as many children as possible. Find out why children's hospitals need community support, identify your member hospital and learn how you can Put Your Money Where the Miracles Are, at CMNHospitals.org and facebook.com/CMNHospitals.
About ADQ:
American Dairy Queen Corporation (ADQ), which is headquartered in Minneapolis, Minn., develops, licenses and services a system of more than 6,400 Dairy Queen® stores in the United States, Canada and 25 other countries. ADQ is part of the Berkshire Hathaway family of companies led by Warren Buffett, the legendary investor and CEO of Berkshire Hathaway. For more information, visit DairyQueen.com.
For more information: Amy Johns, Director of Public Affairs, 304-293-7087