Back to

News
Dream Catchers Music Therapy & Musical Theatre Program
Fall Registration Open Now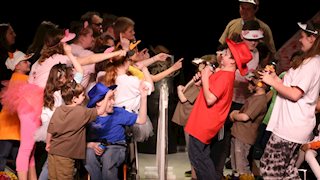 DreamCatchers is a music therapy and musical theatre program for children of all abilities. The program provides children and teens ages 5-18 the opportunity to participate in an extra-curricular musical theatre experience in an exciting, safe, and supportive environment for self-expression at low cost to families.

Classes will be held once a week for two semesters. The group will learn and practice for musical performances at the end of each semester. Your kids will sing and dance, while learning new skills and building lasting friendships. Participation in DreamCatchers will allow all students to use the life skills that are inherent to music and theatre production that help foster and maintain social cohesion, interaction, and understanding amongst families and children with and without disabilities.

DreamCatchers is a collaboration between West Virginia University's Center for Excellence in Disabilities, College of Creative Arts, and School of Medicine. Our staff includes Music Therapists, Occupational Therapists, Speech Therapists, and WVU students of a variety of disciplines.
When: Tuesday nights from 6-7pm.1st Semester: September 3rd - November 19th
Cost: $100 per semester or $175 for both semesters - Includes weekly classes, DreamCatchers t-shirt, music & script, family ice cream social event, and end of 2nd semester cast party.(To find out about a sibling discount, please contact musictherapy@hsc.wvu.edu
Where: The Museum Education Center (MEC) on WVU's Evansdale Campus at West Virginia University
Questions? Email musictherapy@hsc.wvu.edu or call 304-293-4692.
Register now at http://musictherapy.cedwvu.org/dreamcatchers/