Dreamy 'Satisfaction:' WVU Medicine staff escort patient to Rolling Stones concert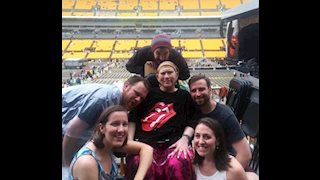 Devon Brand, Melissa Burkovich and Bruce McKee may work in WVU Medicine's Rehabilitation Services, but they recently got into the business of making dreams come true. And they brought a few of their colleagues along with them for the adventure.
Brand and Burkovich met 61-year-old patient Kristin Mascioli in Ruby Memorial Hospital's Medical Intensive Care Unit (MICU) June 15 after she suffered a devastating fall that left her with a pathological femur fracture. Mascioli had previously been a patient in 9 West, where she was receiving chemotherapy treatment for advanced breast cancer.
"When she talked about her goals, the only thing she wanted to do was go to a Rolling Stones concert," said Brand, an occupational therapist.
Mascioli had four tickets to the Stones' June 20 performance at Heinz Field in Pittsburgh. She had planned to attend with two of her sons and her best friend's son. After her fall, however, Brand and Burkovich knew it would be challenging to fulfill Mascioli's dream.
Burkovich, a physical therapist, remembered something Mascioli told her when they met in the MICU: "I don't plan on cancer killing me. It might, but I don't plan on it."
That positive attitude prompted Brand and Burkovich to some dream-building action. "She had tried two previous times to see the Rolling Stones, and those didn't work out," Brand explained. "We left the MICU and said, 'We have to get her to this concert.'"
Because Mascioli required a significant amount of assistance to mobilize and a wheelchair to get around, the two therapists secured a power wheelchair from Mon HealthCare Equipment and Supplies. McKee then began asking some of his colleagues, "Do you want to make someone's dream come true?"
On the list of dream fulfillers was WVU Medicine Security Manager Dan Harris, who offered to provide the organization's wheelchair-accessible shuttle and a driver, Ken Ritchie, to transport Mascioli, her two sons, her friend's son as well as Brand and Burkovich to the concert.
"Frank Briggs approved it from a Risk Management perspective, and Dr. Monga said all the paperwork would be done by noon Saturday, so she could be discharged from the hospital," McKee noted. "Since she was being discharged to a skilled nursing facility for more rehab, we had to get the insurance company and Genesis HealthCare to agree to all of it, and with the help of the WVU Medicine Care Management staff, they did."
At 3 p.m. June 20, Mascioli and her dream team loaded onto the shuttle, traveled to Pittsburgh and endured some pre-show rain. "Kristin had a hot dog, French fries and a sweet tea," Brand recalled. "She was so happy to be in that atmosphere."
Brand and Burkovich were available before, during and after the concert to help Mascioli with any of her healthcare needs – from taking her to the restroom to assisting her with navigating the power wheelchair around the crowds.
"Everything worked out perfectly, and the patient was transported back to her home late Saturday – actually early Sunday – after the concert," McKee added. "Our therapists got her tucked into bed at home around 2 a.m. It all went off without a hitch. As planned, the patient was taken by the family to the Madison Center on Sunday and was admitted for skilled care. Her family was overwhelmed and very grateful for all that was done for them."
McKee thanked all the WVU Medicine teams involved in helping to make Mascioli's life-long dream become a reality. "This created memories for the patient and her family that will last forever," McKee said. "Stories like this are what make Ruby Memorial and our community such a special place."