Ducatman to be honored for years of service to the School of Medicine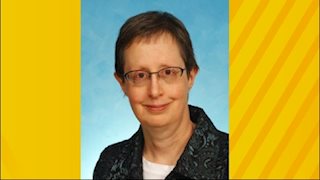 Barbara Ducatman, M.D., professor and chair in the Department of Pathology, Anatomy and Laboratory Medicine, associate dean for faculty services in the School of Medicine and director of the WVU National Center for Excellence in Women's Health, recently accepted the position of chair of pathology with Beaumont Health and Oakland University William Beaumont School of Medicine.
WVU Health Sciences will be honoring her 21 years of service at a reception to be held on Wed., July 19 from 3 to 5 p.m. in the Health Sciences' Pylons lobby. Those who want to wish Dr. Ducatman a fond farewell should RSVP by Friday, July 14 to cstasiak@hsc.wvu.edu or ltrout@hsc.wvu.edu.
Ducatman has led the Department of Pathology through immense growth, cultivating the number of faculty from 11 to more than 40. She oversaw the design and construction of a new, state-of-the-art morgue and laboratory in 2016, expanded hospital clinical pathology and cytopathology services, as well as orchestrated the faculty advancement process for the School of Medicine.
Ducatman is subspecialty trained in cytopathology and is recognized as a national expert in this discipline. She formerly worked at the Beth Israel Deaconess Medical Center (Harvard) and has also served in the U.S. Navy. She will continue to serve on the Executive Advisory Board of the Archives of Pathology and Laboratory Medicine, the highest circulation, major peer-reviewed publication in the field, and is an associate editor of Academic Pathology. She is also President-Elect of the Association of Pathology Chairs, is widely published and is recognized as an outstanding pathology educator.
Peter Perrotta , M.D., professor in the Department of Pathology, Anatomy and Laboratory Medicine, medical director of clinical laboratories, and vice chair of laboratory medicine, will serve as interim chair of the Department. A national search will be conducted in the future.
Robert Gustafson, M.D., professor in the Department of Surgery, chief of the Division of Pediatric Cardiothoracic Surgery and surgeon-in-chief at WVU Children's, will assume the role of associate dean for academic personnel and faculty affairs and oversee the promotion and tenure process in the interim. An internal search will be conducted in the future.