Eclipse eye safety: Common errors can cause serious damage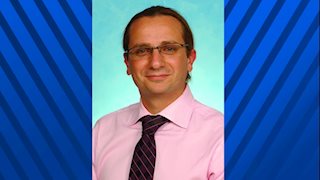 MORGANTOWN, W.Va. – On Monday, August 21, North America will experience a total solar eclipse, the first visible in the United States since 1979. The WVU Eye Institute urges eclipse viewers to enjoy this extraordinary phenomenon safely by protecting their eyes.
"Every time there's an eclipse, we've noticed people going blind despite the safety warnings," Ghassan Ghorayeb, M.D., a WVU Eye Institute ophthalmologist, said. "Our goal this year is to really get the word out so that there will be no eye injuries in West Virginia from this eclipse."
Damage from looking directly at the sun occurs in less than one second. The sun's direct rays literally burn the light receptors in the eye, causing potentially irreversible harm to one or both eyes. Damage can range from blurry or blind spots in the center of the vision to total blindness.
Below are the most common safety issues that Dr. Ghorayeb has seen.
Children who peek. Often adults understand the importance of eye safety, but children don't understand the danger of sneaking a quick peek at the sun's bright light. Children should be well instructed about proper eye safety and closely supervised.

Polarized sunglasses. No sunglasses, no matter how high-quality, polarized, or dark-lensed they are, will protect your eyes when looking at the sun. Homemade filters and the virtually black shades used after eye surgeries are also ineffective.

Non-approved solar filters. Not every manufacturer of solar filters, which are used in eclipse glasses, is reputable. To guarantee safety, eclipse glasses should be marked International Organization for Standardization (ISO) 12312-2 certified. Ghorayeb recommends one of four approved manufacturers: Rainbow Symphony, American Paper Optics, Thousand Oaks Optical, or TSE 17.

Amazon has contacted its customers who purchased eclipse glasses from non-approved manufacturers, issuing refunds and alerting them that their glasses may not adequately protect their eyes. If you purchased glasses from Amazon and have not been contacted, your glasses are from an approved manufacturer.

Cameras and smartphones. Not only will the lenses in cameras, smartphones, binoculars, and telescopes not protect your eyes, but they also focus the sun's rays so intensely that the light can damage your eyes when wearing appropriate eye protection. Take several photos without looking at your camera or phone screen while it's pointed at the sun and keep the best ones. Or enjoy this memorable event without a camera and look up professional photos later.
There are safe ways to view the eclipse. When using certified eclipse glasses, put them on before looking up at the sun, and do not remove them until you have looked away. Ensure that any children with you do the same.
Alternately, the eclipse can be viewed indirectly using a pinhole viewer, either purchased or homemade (instructions are available online), or on the NASA live stream of the event. Additionally, many science centers and planetariums are hosting safe viewing events.
West Virginia will experience a partial eclipse, in which the moon will cover 81 to 93 percent of the sun, from 1-4 p.m. on Monday. The percent of obscuration, or sun coverage, depends on where you are in the state.
Learn more about the eclipse, including what to expect in your area, at NASA's official eclipse website, eclipse2017.nasa.gov.
If you experience visual changes after viewing the eclipse, contact the WVU Eye Institute immediately by calling 855-WVU-CARE (855-988-2273).
For more information: Sarah Wisniewski, Communications Specialist, 304-285-7270