ElSaid receives Don Marsh Scholarship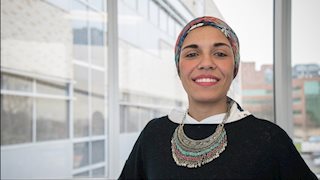 Dalia ElSaid, a graduate student pursuing a master's degree in journalism at West Virginia University's Reed College of Media, is the latest recipient of the Don Marsh Scholarship in Healthcare Writing. The scholarship includes a tuition waiver and a paid internship in the University Relations office at the WVU Health Science's Center.
ElSaid is responsible for writing press releases about WVU health news and events, and student and faculty achievements. She helps with media events at the university and Health Sciences Center.
ElSaid received her bachelor of science degree in political science from Cairo University in Egypt. Prior to moving to West Virginia, she worked as a media and public affairs officer at the Canadian Embassy in Cairo. She returned to school to pursue a career in media and print journalism.
The scholarship honors West Virginia journalist Don Marsh, who was employed at the Charleston Gazette for 40 years – first as a reporter, then as an editor and columnist. Marsh gained a national reputation for exposing arrogance, corruption and hypocrisy through his work as a journalist. He became editor of the Charleston Gazette in 1976 and won The American Society of Newspaper Editors Distinguished Writing Award for commentary in 1987.
After his retirement from the daily newspaper, Marsh was a commentator on the West Virginia MetroNews radio network until his death in 1999.
ElSaid is the daughter of Ahmed El Alfy ElSaid and Sawsan Masoud of Cairo and a 2005 graduate of Notre Dame De La Delivrande school.
For news and information on the WVU School of Medicine, follow us on twitter @WVUMedSchool, like us on Facebook or visit medicine.hsc.wvu.edu.
-WVU-
Contact:
Tara Scatterday
Director, Communications and Marketing
WVU School of Medicine
304-293-0630 | tdscatterday@hsc.wvu.edu