Employees can earn cash and PDO by helping to recruit nurses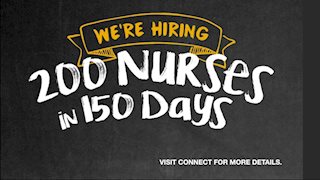 The new Ruby Memorial Hospital tower opens in 150 days, and WVU Medicine-WVU Hospitals must recruit 200 nurses to staff it!
If the Human Resources Department hires your referral, you can earn some cash and PDO.
If an employees refers a qualified candidate who applies for any posted, full-time (.9 or 1.0 FTE) RN position and the organization hires that person, the employee will earn $2,000 and eight extra hours of PDO.
Employees who refer a candidate for any posted, part-time RN position will receive a prorated referral bonus (based on the FTE percentage) and eight hours of extra PDO.
On the application, the applicant must write the employee's name after the question: "If you were referred by a current employee, please list his or her full name." Applicants can apply at wvunurses.com.
Bonus eligibility is limited to part- and full-time WVU Hospitals and UHA employees and residents (some exclusions may apply for residents). Leadership and faculty are not eligible.
Full and prorated referral bonuses are paid to employees who make successful referrals in two equal installments: the first upon the new registered nurse completing 90 days of successful employment at WVU Hospitals; the second installment upon his or her one-year anniversary with WVU Hospitals. All appropriate federal, state, and local taxes will be withheld. Please refer to program guidelines on the Human Resources intranet site.