Employees thanked for quick action after flooding at Ruby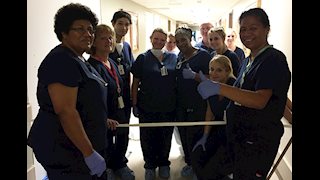 When a flood occurred in Ruby Memorial Hospital's 2 West Surgical Department, WVU Healthcare employees from several units stepped up to make sure the facility was ready for surgical patients the next morning.
At about 6 p.m. May 28, flooding began near the urology procedure room. "It was leaking very quickly," said WVU Healthcare Vice President of Operations Amy Bush. "We immediately asked the Environmental Services (EVS) team to have staff stay over, and several members of management from EVS, Facilities and Surgical Services came back to help."
Managers and staff from EVS, Facilities, Anesthesia, Surgery and Sterile Processing worked together throughout the evening and overnight to move and clean equipment. Don Shriver's Video Drain Company and Panhandle Cleaning and Restoration also assisted WVU Healthcare crews to make sure the facility was ready for patients the morning of May 29.
"Each individual worked tirelessly to get us back up and running for patient care," Bush noted. "There was no delay in patient care, no cases canceled. I have never worked with such an incredible group of colleagues."
Bush also thanked teams from Healthcare Technology Management (formerly Biomedical Engineering), Information Technology, Pharmacy and Radiology for their efforts in checking and rechecking equipment.
"As the evening went on, even though employees were tired and hungry, they were laughing and smiling," Bush added. "There was bonding between some of the teams who don't know each other. That was really neat to see.
"Sometimes the EVS team doesn't get a lot of credit for their behind the scenes work, but there was nothing we asked of them that they didn't do," she said.