Final beam of Southeast Tower raised during topping out ceremony (Video)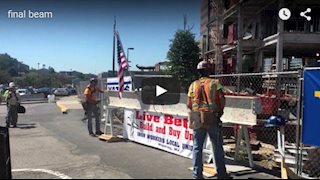 WVU Medicine and Yates Construction joined forces Sept. 16 for a topping out ceremony. The event commemorated the final steel beam being raised to the top of the new southeast tower of Ruby Memorial Hospital.
WVU Medicine - WVU Hospitals President and CEO Albert Wright said the organization is making an investment in the health of the region on a daily basis.
"But today is a special day because we're going to take it up a notch – make that 10 notches – as we commemorate placing the final steel beam on our new 10-story southeast tower," Wright said. "What makes this ceremony even more special is that this beam was signed by many of the staff at WVU Medicine. Although this beam represents the final piece to the exterior frame, there's still plenty of interior work to be done. Still, we are very excited."
Construction will continue with internal work such as plumbing and electrical. Completion of the tower is set for spring 2016 and is on schedule, according to construction officials.
There's a lot of room and a lot of space to fill, which gives me another opportunity to emphasize WVU Medicine's role in the community," Wright added. "Not only will we fill this new space with patients, but WVU Medicine continues to boost the local economy by providing hundreds of new opportunities for employment. We're not only hiring doctors and nurses and other providers to care for these patients but also environmental services workers, maintenance staff and more, to keep the rooms clean and make our care seamless."
Wright thanked employees, patients and visitors for their patience during construction, and Yates Construction for their efficient, masterful work.