Flying High: Alumnus realizes dream as flight nurse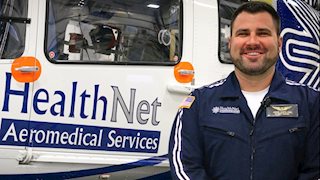 I love my job.
How many people can say that and really believe it? I love challenge, and every day at work I am challenged.
I grew up in rural Monroe County where the West Virginia countryside was dotted with farms, livestock, old churches and covered bridges. The 13,000 residents went without many things — chain stores, national restaurant franchises, a single traffic light, or even a hospital. What they did have though, were deeply rooted values of compassion, loyalty, and hard work. All of these things were embedded into me from the very beginning.
As a child, I was often caught staring out the window of my elementary school watching the medical helicopters land at a nearby football field. My teachers would catch my loss of attention and try to rein me in by pulling the blinds down. I was usually able to see the helicopters land before she got them all the way down. It was more captivating to see the firetrucks and ambulances racing up the road than to be trapped inside. I got so good, I could hear the whoosh of the rotor blades before I ever saw the aircraft.
Tragedy struck close to home and left its own imprint. It was my neighbor, a young woman who was my babysitter. I sat in my dad's truck and watched the chaos and urgency of the firefighters and ambulance personnel trying to help. I think that's when I knew that I was destined for the medical field, but what?
My road to nursing took a meandering path. I changed my major twice before I finally figured it out. Trying to find direction, I volunteered in the Emergency Department of West Virginia University Hospitals where I was exposed to emergency and pre-hospital care. This led me to other avenues of healthcare. Taking classes on top of my college load, I studied to become an EMT. My breaks from school were spent working with the Union Rescue Squad. The winding country roads and rural isolation of Monroe County made it necessary to use medical helicopters. The nearest hospital was 30-60 minutes by ambulance, and the nearest trauma center was almost two hours away. I was envious of the knowledge, confidence and skill these flight teams provided when we transferred patients into their care. I finally knew what I wanted to do. I wanted to be a flight nurse. I earned my nursing degree from West Virginia University, bringing me one step closer to my ultimate goal.
The thing was, flight nurse jobs were hard to come by. These highly sought after positions had a low turnover rate, and employers wanted nurses with experience in emergency and critical care nursing. If I wanted the job, the job wasn't going to come to me. I had to go to the job. I took extra courses in advanced trauma, pediatric and pre-hospital medical care; anything that would make my resume more attractive. I later earned my master's degree in nursing.
My nursing career started in the Medical and Surgical Intensive Care Units of WVUH. Missing the adrenaline rush of the pre-hospital setting, I also took on extra work with Monongalia Emergency Medical Services a few days a month as an EMT. I eventually earned an Emergency Pre-Hospital Nurse certification, which allowed me to function as a field paramedic providing ambulance transport and emergency care in patients' homes, accident scenes and other various locations. Eventually, I realized that the Emergency Department at WVUH would be a better fit in accomplishing my ultimate career goal and transferred. Striving to expand my practice, I continued learning by completing a critical care transport program in Huntington, West Virginia. I finally got my shot. All of my hard work had paid off.
I have been a flight nurse for six years. I am one of the lucky ones who can say I truly love my job. The expanded scope of practice, autonomy and work environment of flight nursing challenges me every day.
Many individuals throughout my nursing career have influenced me and made me into the nurse that I am today. I believe this is true for all nurses. We take pieces of every mentor, educator, preceptor and coworker with us. Some of these pieces inspire us, some teach us, while others guide our sense of morality. But all of the pieces molded together are you, the nurse that you are today. I am extremely grateful to all of the wonderful individuals who have molded me into the nurse that I have become. A small "piece" of them goes with me on every flight.
I love my job.
This story was written by Jared Copeland, MSN, BSN '05, RN, CFRN
For more information: Contact Tara Curtis, 304-581-1772