Food options available while The Market at Health Sciences undergoes updates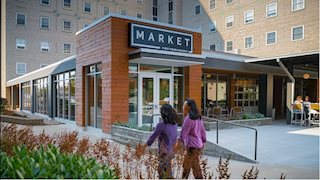 The Market at WVU Health Sciences will continue to operate on a limited basis in preparation for the switch to new food vendor, Sodexo. Hugh Baby's will cease operations on Fri., Aug. 24. Panini Pete's will continue to offer a limited menu through Aug. 31, and food trucks will be available starting the week of Aug. 27 on the following days from 10:30 a.m. to 1:30 p.m. on the ground floor sidewalk of HSC South, between the Health Sciences Center and J.W. Ruby Memorial Hospital:
Mon., Tues., Thur., Fri. – Pyles of Pasta
Mon. – Fri. – Dave's Famous T&L Hot Dogs
The Market will temporarily close on Friday, Aug. 31 to undergo construction. Beginning Tues., Sept. 4 through Oct. 15, the following food trucks will be available weekdays between 10 a.m. to 1:30 p.m. (subject to change based on construction schedule and sales):
Dave's Famous T&L Hot Dogs
The Greeks
Pyles of Pasta (3 days-per-week)
Chick-fil-a
The J.W. Ruby Memorial Cafeteria on the fourth floor is also open for breakfast, lunch and dinner and offers a full menu of items. The Market is estimated to reopen in mid-October.
Follow Mountaineer e-news for updates. Students, faculty and staff can contact WVUMarket@mail.wvu.edu with questions.