Nutrition Services starts delivery option to WVU Medicine Corporate Office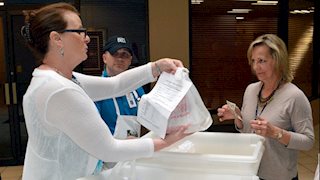 Of all the employee feedback she has received, perhaps the most troubling to Nutrition Services Director Kendra Stoen was the expression of disappointment from off-site employees who have been disconnected from food options at Ruby Memorial Hospital and the Health Sciences Center.
On Friday, June 10, Nutrition Services, took its first step in bridging that gap – in the form of Italian hoagies. Described as a "trial run" by Stoen and Catering/Vending Manager Stephanie Juristy, Nutrition Services began a new food delivery service with a stop at WVU Medicine Corporate Office. Around 32 Italian hoagies, along with sides, such as oranges, brownies, cookies and chips, were delivered.
"We conducted a survey and found that people were very interested in getting food delivery two days a week or as many as five days a week," Juristy said. "The business is there, it's just can we keep up with the volume?"
To gauge that dynamic, the service is starting slowly. Over the next few weeks, delivery will continue to the WVU Medicine Corporate Office each Friday. As word spreads, Juristy thinks a large percentage of the 700 WVU Medicine employees housed there will place orders.
For now, orders are being taken via email (juristys@wvumedicine.org), phone (304-598-4105) and fax (304-598-4119). Eventually, Nutrition Services may purchase software that will allow employees to order though an online portal that will simplify the process. Employees can pay using credit cards or cash, or through payroll deduction.
In its infancy, Nutrition Services will stick to a basic menu. Stoen said the first expansion will probably feature six or seven sandwich options and five salad options. The growth of the service will depend on the demand and the resources at hand.
"We're starting out simple to make sure we don't fail," Stoen said. "We're still considering a lot of options."
Below, top: Matthew Woods, a patient services representative with the WVU School of Dentistry, receives the first lunch in Nutrition Services' delivery service Friday (June 10) at the WVU Medicine Corporate Office.
Below, bottom: Stephanie Juristy, catering/vending manager, Nutrition Services, and George Michael, a vending specialist, unload a van packed with pre-ordered lunches outside the WVU Medicine Corporate Office.