For retiring WVU alumnus, saving lives, improving readiness highlights of 30-year military medicine career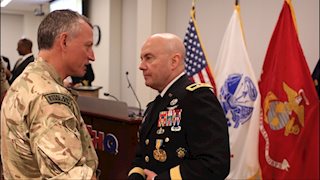 Maj. Gen. Richard Thomas, after spending 30 years as a soldier practicing military medicine around the world, retired from the Army Friday, April 29. As Thomas, a three-time graduate of West Virginia University, readied himself to leave the Army he summed up his career with a simple philosophy: It's all about saving lives and improving readiness.
"What value does this combat support agency bring to the fight?" said Thomas, head of the Defense Health Agency's (DHA) Healthcare Operations Directorate. "One of the best ways we can show that value to everyone is to make sure we are building a medically ready force and a ready medical force. In the last 15 years of continuous combat operations, we have achieved all-time high survival rates, with wounded warriors surviving injuries never seen before. The medicine we're practicing today is giving them a tomorrow."
Thomas, a self-described "triple threat" from WVU, received a bachelor's degree in 1981, later graduating from WVU's dental and medical schools in 1986 and 1994 respectively. Before hanging up his uniform – he's not actually "retiring" – Thomas was named as the next president of the Uniformed Services University of the Health Sciences in Bethesda, Maryland. On April 21, Secretary of Defense Ashton Carter announced Thomas will succeed Dr. Charles L. Rice, who will step down June 30 after leading the university since July 2005, at the helm of the military's medical school.
Dr. Jonathan Woodson, now the former assistant secretary of Defense for Health Affairs, said at Thomas's retirement ceremony, the fact Thomas will still be part of the Military Health System makes it less of a goodbye.
"The undertone of sadness [over Thomas's departure] is almost nonexistent because of the great news about General Thomas being selected as the next president of [USU]," said Woodson. "This is an awesome responsibility because it is about preparing the next generation of medical officers that need to be ready to defend this nation."
Woodson added Thomas's love of public service was evident and nurtured when he enrolled in the WVU ROTC program as a teenager. "Thank you for a career of excellence and sacrifice," Woodson said to Thomas. "Thank you for your commitment and patriotism."
Thomas, DHA's first director of Healthcare Operations and Army surgeon, has been recognized by
military and civilian organizations for his contributions to medicine, including his work providing new alternatives in pain management to warfighters. His professional affiliations include the American College of Surgeons, the American Academy of Otolaryngology and various other national and international medical societies.
"It has been an honor to work with General Thomas," said Navy Vice Adm. Raquel Bono, DHA director. "With his depth of knowledge and skills, as well as his genuine concern for our patients, he's been a trusted adviser and colleague as all of us worked together to grow and mature into the combat support agency our warfighters need."
As DHA moves forward, its goal of readiness will continue to show value to patients and the uniformed services alike.
"We're the new guy," said Thomas. "So one of the challenges we have is continuing to mature the agency, working with the services, enabling and supporting them , not do the job for them, but help them do what they do better. Our No. 1 challenge is building trust, showing that value."
Beyond the care on the battlefield, Thomas said a large part of DHA's mission includes keeping service members ready for the fight, and that includes making sure their families are cared for as well.
"It's all about readiness," he said. "If you can't bring all these good ideas back to that fact, it's not important to us. Readiness is job one. Otherwise, you could have a managed health care organization just take care of your troops."
In that same vein, the modernization of TRICARE, the Military Health System's apparatus to take care of active duty members, their families and retirees, remains a proud achievement for Thomas during his time as DHA Healthcare Operations director. Looking back on his two-and-a-half years at DHA, Thomas said he's most proud of the people he's worked with.
"We came in here with a group of disparate organizations, cobbled them together, and the people built the organizational enterprise," he said. "It's unbelievable their patriotism. They're very passionate about what they do. They have some unique skill sets, and they take this very seriously. Without those key teammates, putting together the DHA wouldn't have happened. And going forward, they enable us to do what we'll need to do."
Thomas also took time to reflect on his time as an Army physician. He credits his success to many people, including his wife Patricia, also a graduate of WVU's School of Nursing, and his father, who was a sergeant major in the infantry and Special Forces. Thomas said that at 87, his father still lives in Florida, is in great shape, and is still a strong influence on his military career.
"I believe the best officers are products of good NCOs (noncommissioned officers). That doesn't change, irrespective of the branch of service," said Thomas. "My father gave me some wise counsel when he told me to look at my options on the table and decide what I wanted to do. He supported me going a slightly different path than his infantry career."
With 30 years of service and five combat tours behind him, Thomas said he would have told young Lieutenant Thomas, and any young lieutenant now, not to assume they'll finish your initial obligation and get out of the military.
"The military is a great place to learn and mature," he said. "They sent me to college, sent me to dental school, sent me to medical school and trained me to be a surgeon. And the military really helped me understand why we do things. For me, the opportunity to serve in uniform, taking care of our servicemen and women and their families, has really been the highlight of my life."
IMG_1691 – Army Maj. Gen. Richard Thomas (right) is congratulated by Royal Navy Capt. Steve Bree, the British liaison officer to the Office of the Assistant Secretary of Defense for Health Affairs. Thomas concluded his 30-year career in Army medicine during a retirement ceremony on April 29, 2016. Thomas, a self-described "triple threat" from WVU, received a bachelor's degree there in 1981, later graduating from WVU's dental and medical schools in 1986 and 1994 respectively. The Secretary of Defense announced in April that Thomas will guide future generations of military doctors as the next president of the Uniformed Services University of the Health Sciences in Bethesda, Maryland.
Photo 1 cutline: Army Maj. Gen. Richard Thomas (right) escorts his wife, Patricia, a native of Lewisburg, West Virginia, and graduate of the West Virginia University School of Nursing, during his retirement ceremony in Falls Church, Virginia, April 29, 2016.
Photo 2 cutline: Army Maj. Gen. Richard Thomas addresses the crowd gathered for his retirement ceremony at the Defense Health Headquarters in Falls Church, Virginia, April 29, 2016.