Former Miss Colorado, nurse to speak at WVU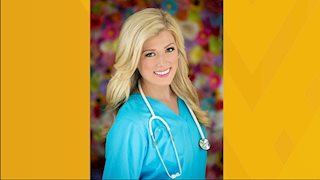 Former Miss Colorado Kelley Johnson made headlines for her powerful monologue in the 2016 Miss America pageant. Ms. Johnson, a registered nurse, will be presenting, "I'm More Than Just a Nurse" on Friday, July 14, 2017 from 4 to 5 p.m. at the Erickson Alumni Center in Morgantown, West Virginia.
Ms. Johnson became a celebrity after delivering her monologue focusing on why she became a nurse during the talent portion of the Miss America Pageant, which earned her second runner-up. The video of her speech has more than five million hits on YouTube. She has appeared on Dr. Oz, the Ellen DeGeneres Show, Inside Edition, E! News, and The Doctors to shine the light on the nursing profession. Johnson is an advocate and voice for the nursing profession and the important role in healthcare settings.
"As a nurse I encourage area nurses and others to attend this event and be reminded of the difference nurses make in the lives of the patients we touch every day. It's very exciting to bring our nursing community together to celebrate and lift each other up in the work we do," said Ms. Malene Davis RN, MBA, MSN CHPN, President and CEO for Capital Caring and West Virginia Caring and Chair of the WVU Alumni Association.
Capital Caring, West Virginia Caring and the WVU School of Nursing are sponsoring this free event which is open to the public. Light refreshments will be provided. Please RSVP to Capital Caring by calling 304-599-4200 before Monday, July 10, 2017.
Tara Curtis