Free joint replacements available through Operation Walk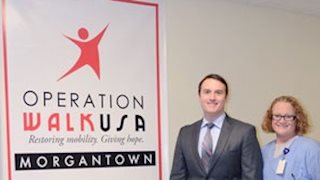 MORGANTOWN, W.Va. – Do you live with severe knee or hip pain due to arthritis, but you can't afford a joint replacement surgery? The WVU Medicine Center for Joint Replacement is offering free joint replacement operations to financially qualifying patients through Operation Walk USA.
Operation Walk USA is an independent medical humanitarian organization that provides free hip or knee replacement surgeries to patients in the United States. Operation Walk USA benefits United States citizens and permanent residents who do not qualify for government assistance programs and cannot afford surgery on their own.
"This is a life-changing operation," Benjamin Frye, M.D., said. "Patients' quality of life when they have severe hip and knee arthritis is very, very poor. Their function is limited; their mobility is limited; they have a hard time keeping employment; they can't exercise like they used to; they can't play with their kids or grandkids like they used to. Operation Walk is a way of getting this operation to people that truly benefit from it."
Operation Walk provides every aspect of the surgery at no cost to the patient. Pre-operative visits; surgery; hospital stay; medications; medical equipment, such as walkers and raised toilet seats; home healthcare; and outpatient therapy are all covered by the hospital and donations.
The procedures will be performed on Friday, Dec. 4 during Operation Walk week, which is Nov. 30 to Dec. 5. Patients should expect six weeks of recovery after the surgery, and most can return to work within four to 10 weeks, depending on the type of work.
In 2013, the Center for Joint Replacement performed five free surgeries in its first year participating in Operation Walk.
Potential patients will be screened to identify whether they are a candidate for joint replacement surgery. Surgical candidates will then go through a financial screening to determine if they meet the criteria for care through Operation Walk.
For more information or to begin the screening process, call Cindy Drummond, R.N., at 304-598-6720.
--WVU MEDICINE--
15-157
For more information: Amy Johns, Director of Public Affairs and Creative Services, 304-293-7087
sw: 10-14-15