Free screenings offered to first responders Sept. 11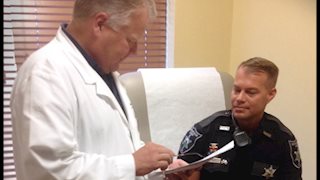 MORGANTOWN, W.Va. – The WVU Heart Institute is hosting the Second Annual First Responders Day from 8 a.m. to 3 p.m. on Friday, Sept. 11.
Active-duty first responders will have the opportunity to take part in nine different health assessments, including:
weight/height/BMI
body fat analysis
blood pressure and heart rate
blood work, including cholesterol and blood glucose levels
carotid artery scanning
12-lead ECG with interpretation by a cardiologist
risk factor assessment
Participants must bring their badges or active identification cards to receive free screenings.
The screenings will take place at the Heart Institute in Suncrest Towne Centre.
For more information, contact the Heart Institute at 304-598-4561.
Photo caption: WVU Heart Institute Director Brad Warden, M.D., goes over test results with Monongalia County Deputy Sheriff Craig Ruscello at last year's First Responders Day event.
--WVU MEDICINE--
15-134
For more information: Amy Johns, Director of Public Affairs and Creative Services, 304-293-7087
sw: 08-31-15