Friends of WVU Hospitals announces seventh annual holiday event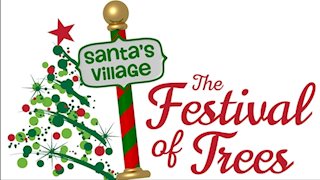 New location for Festival of Trees at Suncrest Towne Center
MORGANTOWN, W.Va. – Mark your calendar for the Seventh Annual Friends of WVU Hospitals Festival of Trees – Santa's Village on Dec. 10 and 11, held this year at a new location at 1066 Suncrest Towne Center, near Jacqueline's Fine Jewelry. This event is a holiday tradition, which was attended by more than 700 visitors in 2015.
Families are invited to tour each station in the village and enjoy activities, food, music, and shopping. Kids can have their photos taken with Santa, Mrs. Claus, and Monti Bear. Sessions are 9 a.m. to noon and 1 p.m. to 4 p.m. on Saturday and 2 p.m. to 5 p.m. Sunday. Individual tickets are $15, and tickets for families with up to four members are $50.
Fully decorated trees, individual ornaments, and other holiday items will be available for sale during the event. The village also includes a children's store, where children can purchase items and help wrap them.
The event benefits the mission of Friends of WVU Hospitals. Over the years, Friends has provided more than $1 million in funding for a number of patient comfort and care programs, including the patient/employee communication system, a Rosenbaum Family House stay unit, the Comfort Fund and the Norma Mae Huggins Cancer Research Endowment at the WVU Cancer Institute, the Betty Puskar Breast Care Center, CPR Anytime training kits for local schools, scales for heart patients, defibrillators, patient supplies and transportation, and much more.
Current Friends of WVU Hospitals President Victoria Shuman appreciates the community's support.
"We are very grateful for the ongoing support of the Morgantown community for this annual event and to our mission to provide care and comfort programs for WVU Medicine patients and their families," she said. "We are especially thankful for our event sponsors for making the event and our mission successful."
A variety of sponsorship opportunities are available for the Festival of Trees. Interested parties should contact Pam Shriver at 304-598-6094 opt. 5 or at shriverpa@wvumedicine.org.
For more information: Amy Johns, Director of Public Affairs, 304-293-7087