Friends of WVU Hospitals celebrates volunteers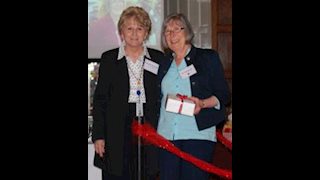 MORGANTOWN, W.Va. – Friends of WVU Hospitals Auxiliary held its Annual Meeting and Luncheon in Hollywood style today (April 21) at the Hotel Morgan. The group represents the hospital in the community and raises funds to support patient care and comfort at WVU Healthcare. Each year, the Friends meet to honor the many hours of service volunteers provide.
This year, Friends celebrated the 657 volunteers who provided more than 28,000 total hours of service to WVU Healthcare with fun and festivities derived from Hollywood, complete with Hollywood décor and awardees walking on the red carpet to accept their awards.

Albert Wright, Jr., president and CEO of WVU Healthcare, addressed the crowd, noting the importance of people in carrying out the mission of WVU Healthcare.
"Without the compassionate service provided by those who dedicate their time and talents to helping others, nothing else matters," he said. "Today, we recognize a group of WVU Healthcare people much deserving of our accolades. They are among our most treasured human resources – our volunteers."
Darlene Nelson, board president of the Friends of WVU Hospital Auxiliary, thanked all present for supporting the group's mission and hinted at exciting developments ahead.
"Friends' main fundraiser of the year is Festival of Trees," she said. "This year, we'll have an even bigger, better Festival of Trees, planned for Nov. 20-21, 2015, at Lakeview. It will be a huge community and holiday event, one that the entire family can enjoy."
Vice President of Human Resources Charlotte Bennett presented the awards for service hours performed. Volunteers were honored for 100, 500, 1,000, 1,500, 2,000, 5,000, and 7,500 hours of service to WVU Hospitals.
Leslie Klishis received the Friends Lifetime Membership Award, and Michelle Dibert was recognized with the 2014 Volunteer of the Year Award.
Volunteers recognized for their hours of service included:
7,500 volunteer hours: Sue Woodruff
5,000 volunteer hours: Connie Lowe
2,000 volunteer hours: Mandy Cole
1,500 volunteer hours: Katie Hall, Leslie Klishis, and Marie Richardson
1,000 volunteer hours: Sandy Chisler and Chip Winters
500 volunteer hours: Heather Britton and Nancy Watkins
100 volunteer hours: Linda Channell, Sabrina Hanlon, John Lindsay, Nora Metzler, Anna Pappas, Michael Pappas, Kathy Sedlock, Christi Weston, Rachel Zumpe, and Charlotte Hall (service dog).
To learn more about volunteering at WVU Healthcare, visit www.wvuhealthcare.com, click on careers and then 'Volunteer at WVU Healthcare.' You can also contact the Volunteer Services Office at 304-598-4134. Summer registration for junior (ages 14-18) and student volunteers is currently open through April 30.
Photo caption: Volunteer Michelle Dibert (right), the 2014 Volunteer of the Year, paints the fingernails of WVU Children's Hospital patient Kendra Kalar, 9, of Montrose, W.Va., while Kendra's mother, Kayla, watches.
--WVU HEALTH--
15-073
For more information: Amy Johns, Director of Public Affairs, 304-293-7087
ps/lal: 04-21-15