Friends of WVU Hospitals makes donation to Norma Mae Huggins Cancer Research Endowment Fund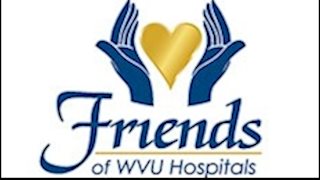 MORGANTOWN, W.Va. – The Friends of WVU Hospitals presented a $5,000 check to the Norma Mae Huggins Cancer Research Endowment Fund at Coach Bob Huggins' Annual Fish Fry on Friday, Feb. 3.
The funds were raised through the sale of the Hug-A-Bear, which was created with Coach Huggins in mind. It is the third in the series of bears produced exclusively for Friends of WVU Hospitals by Gund. Hug-A-Bear wears a coonskin cap and blue blazer and holds a basketball. When his tail is wound, he plays "Country Roads." Friends donated $10 from the sale of each bear to the Huggins Endowment Fund.
Huggins established the Norma Mae Huggins Cancer Research Endowment Fund at the WVU Cancer Institute in memory of his mother, who died in 2003 following a long battle with colon cancer. In keeping with Coach Huggins' wishes, this fund supports clinical research, specifically providing access to cancer clinical trials at WVU Medicine affiliates for all West Virginians.
Hug-A-Bears were available for sale at the Fish Fry, and Coach Huggins autographed the bears that were purchased. Friends' mascot, Monti Bear, was also on hand to visit with attendees and support the event.
"We are very thankful for the support of the WVU community in the sale of Hug-A-Bears," Victoria Shuman, Friends of WVU Hospitals president, said. "This connection with Coach Huggins and his mother's fund is just one way of helping us continue our mission to provide care and comfort programs for WVU Medicine patients and their families. Thank you, Coach Huggins, for your continued support."
Over the years, Friends has provided more than $1 million in funding for a number of patient comfort and care programs, including the patient/employee communication system, a Rosenbaum Family House stay unit, the Betty Puskar Breast Care Center, CPR Anytime training kits for local schools, scales for heart patients, defibrillators, patient supplies and transportation, and much more.
For more information on Friends of WVU Hospitals or the Hug-A-Bear, visit Friends Gift Shop, located inside the lobby of WVU Medicine J.W. Ruby Memorial Hospital, or visit www.wvuhgift.com.
For more information: Amy Johns, Director of Public Affairs, 304-293-7087