Friends of WVUH Gift Shop celebrates Evelyn Andrews' 11,000 volunteer hours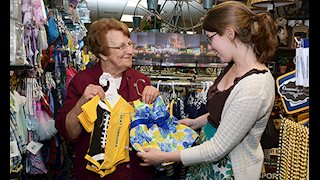 Andrews celebrates her 91st birthday on Tuesday
MORGANTOWN, W.Va. – Evelyn Andrews, "Evy" to her friends, doesn't see what all the fuss is about. She just comes twice a week to the Friends of WVU Healthcare Gift Shop where she volunteers, pricing the items, restocking the shelves, and delivering gifts to patients' bedsides.
"I keep busy all the time. Or I think I do," Evy said.
The fuss is that Evy, now approaching her 91st birthday, has kept busy for over 11,000 hours as a WVU Healthcare volunteer over the last 54 years.
"Evy is a WVU Healthcare treasure. She is devoted to this institution. The help and kindness she has given our patients, guests and employees for nearly 55 years is priceless. We are grateful for her amazing service and happy to celebrate her volunteer spirit," Jena Prokopchuk, Director of Rosenbaum Family House and Volunteer Services, said.
Evy and her then-husband moved to Morgantown with their two children in 1961 so her husband could teach in the newly opened WVU School of Medicine four-year degree program. She began volunteering at the old University Hospital and was part of the original hospital auxiliary.
Evy and the other volunteers helped out all over the hospital. She took water to patients' bedsides, retrieved charts from the records room, and escorted patients to the X-ray room. Evy was working in the outpatient department when she heard that John F. Kennedy had been shot. And, of course, she began helping in the gift shop.
Volunteering started out as a way to connect to the community and the other faculty, but for Evy it became much more.
"It's just part of me," Evy said. "And right now, at my age, I feel that if I get out and go I feel much better. I take Meals on Wheels, too. The activity is good for me. This is therapy."
Evy has worked in the gift shop since the '60s, except for six years when she served as a nurse—at WVU Healthcare, of course. She was working during the transition from the old University Hospital to the new Ruby Memorial Hospital in 1988.
"The old hospital was growing, and this one, since I quit work, has grown and grown! Since I've been working here, they added all of this," Evy said, gesturing toward the construction involved in the Ruby expansion project. "It's fascinating and fantastic! Looking at the pictures of how they say the atrium is going to be, it's really going to be awesome, I think."
The gift shop staff is hosting a party from 3:45 p.m. to 5 p.m. on Evy's birthday, Tuesday, May 19, in the West Lobby of Ruby Memorial Hospital to celebrate her long-time commitment to WVU Healthcare. Friends, employees and former co-workers are encouraged to send thank you and birthday cards to campus mail box 8075 or to drop them in the box at Friends Gift Shop.
As for Evy, she has no plans to go anywhere.
"I'm very loyal to WVU Healthcare," Evy said. "This is my home now. I'm not going to leave West Virginia."
Photo caption: Evelyn Andrews, 91, enjoys a variety of duties at Ruby Memorial Hospital, from delivering gifts to patients to restocking bubble gum.
-- WVU HEALTH --
15-090
For more information: Amy Johns, Director of Public Affairs, 304-293-7087
sw: 05-14-15