Global health rotations provide health sciences students with international experience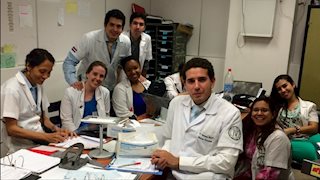 Programs increase medical skills and cultural awareness
Every year, teams from West Virginia University's Schools of Dentistry, Medicine, Nursing, Public Health and Pharmacy participate in clinical rotations at locations across the world. These rotations are coordinated by WVU's Global Health Program, under the leadership of Melanie A. Fisher, M.D.
During the 2016 spring semester, health professions students, faculty physicians and medical residents traveled to Guatemala, Oman, Barbuda, Brazil, Ghana, Rwanda, Paraguay and Italy. Each global health rotation lasts about a month. In addition to clinical experience, students gain insights into culture, communication and relationships.
"The students not only serve others on these rotations but also gain tremendously from their experiences, including skills that will make them better healthcare professionals to serve the people of West Virginia," said Dr. Fisher, director of WVU's Global Health Program.
In February, WVU School of Medicine faculty members Maggie Jaynes, M.D.; Troy Krupica, M.D.; Maria Merzouk, D.O.; and Josephine Reece, M.D., led a trip to San Lucas Toliman, Guatemala, with residents Barry Rittmann, M.D., and Todd Schlossman, M.D. Four medical students – Hannah Harris, Layley Leight, Benjamin Smith and Blair Suter – and two staff members also participated.
The medical residents provided education about diabetes and asthma to the promotoras, or lay community members, from the communities serviced by the mission. The patients learned how to use glucometers.
The travel experience to Guatemala working in a rural health setting abroad was a first for fourth-year medical student, Benjamin Smith, and he compared the trip to his rural rotations in West Virginia. "I consider this trip an invaluable experience for my career as a physician," Smith said. "It gave me a lot to think about on the plane ride home and the months after, especially in regard to how to use what I learned to improve health care both at home and abroad as a physician."
The group saw a little less than a 1,000 patients in the community, including some home visits. "The students appreciate the impact of education, economic and living conditions, culture and access to care on the health of an individual as well as their family and community daily in a much more poignant way than learning medicine completely in a tertiary care center," said Dr. Jaynes, professor and section chief of pediatric neurology. "We hope that these experiences provide a foundation of the humanism of medicine that is kept alive in their souls as they become physicians."
Harris noted that her experience in Guatemala allowed her to experience medicine and infectious disease in a way that would not have been accessible to her in the United States. "The sheer volume of patients each day really helped me and the other medical students become more comfortable with our history taking and physical exam skills," she added. "I am so grateful for the opportunity to travel as a medical student and know that this trip has definitely made me a more competent and compassionate physician."
Also during the spring semester, a team of dentists and dentists-in-training from the WVU School of Dentistry, led by Gordon Keyes, D.D.S., retired professor of oral pathology, spent a week in and around San Lucas, Guatemala, providing free dental care to the rural population.
For more information about global health rotations for health professions students, contact Jacque Visyak, assistant for the Global Health Program, at jvisyak@hsc.wvu.edu, or Dr. Fisher at mfisher@hsc.wvu.edu.
WVU Health Sciences Global Health Rotations – Spring 2016
Guatemala (February 2016)
Dr. Maggie Jaynes
Dr. Troy Krupica
Dr. Maria Merzouk
Dr. Josephine Reece
Dr. Gordon Keyes (SOD)
Dr. Barry Rittmann - Resident
Dr. Todd Schlossman - Resident
Hannah Harris (SOM)
Hayley Leight (SOM)
Benjamin Smith (SOM)
Blair Suter (SOM)
Oman (February 2016)
Lindsay Bach (SOM)
Jordan Bernens (SOM)
Chelsea Knotts (SOM)
Rwanda (February 2016)
Dr. Lola Burke
Dr. Katie Hill - Resident
Samantha Johnson (SOM)
Joseph Klauss
Barbuda (March-April 2016)
Dr. Lee Smith
Dr. Monica Speicher (Washington Hospital)
Dr. Erin Schaffer - Resident (Washington Hospital)
Hannah Harris (SOM)
Ross Lawson (SOM)
Hayley Leight (SOM)
James Ohliger (SOM)
Italy (March-April 2016)
Dr. Patrick Marshalek
Dr. Renee Saggio
Samantha Hanna (SOM)
Katherine Seachrist (SOM)
Brazil (March-April 2016)
Dr. Troy Krupica
Dr. Kyle Chapman - Resident
Natalia Arboleda (SON)
Olivia Francis (SOM)
Alexandra Greco (SOP)
Rebekah James (PT)
Kimberly Polinik (SON)
Beth Ramser (SOM)
Raul Sanchez (SOM)
Kayla Sistilli (SON)
Jessica Zook (SOP)
Guatemala (March-April 2016)
Dr. Gordon Keyes
Christa Bryan (SOD)
Donovan Godwin (SOD)
Kerri Simpson (SOD)
Megan Borak (SOD)
Rob Stephens (SOD)
Savanah Stewart (SOD)
Kevin Sivaneri (SOD)
Ghana (March-April 2016)
Dr. Josephine Reece
Dr. Rebecca Reece
Dr. Jenna Sizemore - Resident
Paige Cook (SOM)
Blair Suter (SOM)
Paraguay (March-April 2016)
Rebecca Furby (SOM)
Virginia Horne (SOM)
Samantha Johnson (SOM)
Lindsey MacNabb (SOM)